It was two months ago today that we ran a sky-is-falling story on ESPN's Longhorn Network going live without having lined up cable companies to actually broadcast the channel. We thought that was just last-minute posturing and ESPN's muscle would get the deals done before long. But here we are, halfway through the season, and it's still a channel without a home.
Awful Announcing has a good breakdown of the problems, which start with the one major cable provider in the fold not having much of a presence in Texas itself.
The most glaring issue is outside of the Texas fan-base, there just isn't a lot of interest in the channel and in fact the mere existence of the network has more than likely hurt the brand of Texas nationally more than it's helped it. The idea that an entire network can be propped up by two shitty football games has cable providers holding the line knowing the implications of giving in.

Also working against LHN is the fact that ESPN is their distribution partner. You'd think that this would only help adoption of the channel but my take is that ESPN has bullied the entire industry for quite awhile. This is really the only time where operators actually have leverage and can potentially keep it as an ace up their sleeve for future negotiations on other ESPN/Disney talks.
This situation can't continue indefinitely. The Big Ten Network suffered through the same growing pains, with most cable companies only agreeing to carry it in its second year of existence, but that was amid public demand. With no one clamoring for the Longhorn Network in their home, it's still likely that by next year the network's footprint will be national: but not at the price ESPN wants to charge to carry it.
G/O Media may get a commission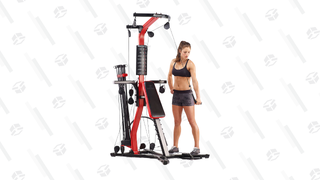 31% Off
Bowflex PR3000 Home Gym
In the meantime, the low profile has had an unintended benefit. Longhorn Network studio host and reporter Kevin Dunn was arrested for driving drunk in Austin earlier this month, and no one noticed.