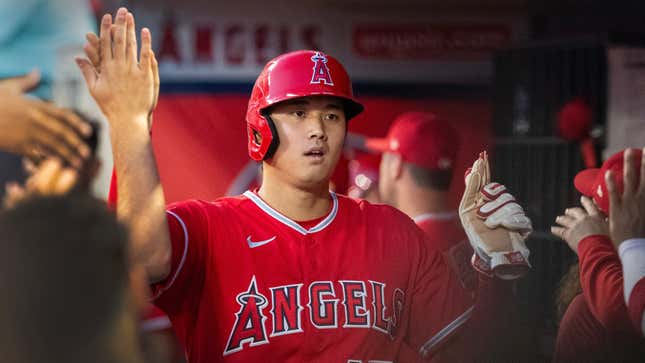 The Los Angeles Angels are as much in Los Angeles as they are in the running to re-sign Shohei Ohtani when he hits free agency this winter, and he will hit free agency, because he's not getting traded. As much as I love throwing a bucket of ice water on the midseason hot stove, I say this for more than just the theatrical eruption of steam.

The Angels are too stupid to know any better. For whatever reason — likely $426.5 million reasons — Mike Trout has shown the organization unyielding loyalty despite the Angels aimless direction, and so why should they trade Ohtani? Surely, he's as easily placated as the former best player in baseball, and will be content playing a maximum of 162 games per season.
How dumb are the Angels?
Trading Ohtani makes too much sense, which is precisely why it won't happen. I'm not under the assumption that the Angels are going to get a full starting rotation in return for one player, or that their current general manager, Perry Minasian, should even be entrusted to execute such a franchise-defining move. I've simply been beaten into submission that teams are beholden to no one, and need to remove personal bias, patience, and optimism from all decision making.
The thought process I'm projecting onto the Angels is that Ohtani is a once in a lifetime player, and moving off of him is akin to trading Babe Ruth. You hold onto that kind of talent for as long as possible, and hope for the best.
Considering "hoping for the best" is the Angels' entire organizational strategy — it's why they're in this current predicament — they will inevitably be crippled by indecision, or disillusioned by the "LA" on the hat, and stand semi-firm that Ohtani will stand by them.
This is, of course, an asinine strategy, and antithetical to the thinking of front offices, and sports media. The pleas for trade destination slideshows are being heeded everywhere you click, and all the big market teams are tallying their assets to see how much they could offer in a trade, because Minasian said he's not going to trade Ohtani if they're still in contention.
The thing is, contention is subjective, and four-and-a-half games back of the final Wild Card spot is more than enough for the Angels to grasp onto the belief that Shohei Ohtani will stay regardless of no tangible reason to do so.