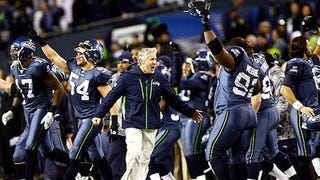 The Seattle Seahawks, with a 7-9 record, will host a playoff game next weekend. Predictably, there are already calls for realignment, reseeding, and an entire rejiggering of the playoff process. We say no: this is an all-time great moment for mediocrity.
The road to seven wins was a strange one, with four victories in the division, a gimme against the Panthers, and then, somehow, wins over the reeling Chargers and a Bears team with a post-concussion Jay Cutler. If two wins over above-.500 teams isn't a playoff resume, I don't know what is.
There's absolutely nothing shameful about a team with a losing record making the playoffs. Happens all the time in the NHL and NBA, and no one's looking to shake up those leagues. In fact, you know which American pro sports league gets shit all the time? The one that lets the best teams into the playoffs, regardless of division or conference. In MLS last year, six of the top eight teams were from the West, so that's who went in. It looked weird having Colorado and San Jose compete in the Eastern Conference Championship, and, the year before, it looked weird having Salt Lake City win the Cup coming out of the East. Slapdash-looking, the wags said. A real American league wouldn't do things so amateurishly. So what's professional? Apparently, divisions having a winner, regardless of record.
Besides, it's not as if 7-9 is Seattle's final record. They've still got as many as four games left, although they'd have to win the Super Bowl to finish with a winning record. Don't laugh. Okay, laugh a little, then stop. But the NFC West has a funny way of making fools of us when we hold their division winner up to ridicule. Two years ago the Cardinals rode their undeserved playoff berth all the way to the Super Bowl. Last year the Cardinals gave us the most entertaining game of the postseason, a shootout with Green Bay.
So who's to say they can't beat the Saints, in Seattle. New Orleans has some pretty bad losses, and Seattle has...that one good win over Chicago. So maybe it's hard to argue that the Seahawks earned the right to be hear. But what was the other option? St. Louis, who would've been 8-8, a more respectable record? You think the Rams would have fared better in the playoffs? They couldn't even beat the Seahawks, for christ's sake.