Your morning roundup for March 20, the day Haitian frustrations still have a Fugee in hand pain.
• Anthony Robles, an Arizona State University wrestler, won the national championship at 125 pounds last night. He leaves the mat, after an undefeated senior season, behind to become a motivational speaker. Robles won last night's match 7-1 and got a big standing ovation at the national championships in Philly. "I'm not in it for the attention, but if I can help change someone's life for the better, that's an honor, a privilege," he said afterward. [AZ Central]
• In other mat-related affairs, Jon "Bones" Jones became the youngest UFC champion ever with last night's pounding, drilling, demolishing, plowing, beating-to-a-swollen-mess of a Brazilian named Shogun. During his pre-fight mediation, he also foiled a robbery. Next up: Eradicating rickets. [Star-Ledger]
• Said a tearful Nasir Robinson after a really bad foul helped Butler beat his Pitt Panthers last night, "I take the blame for this loss. I made a dumb play. I apologize to my teammates and the fans." [Pittsburgh Post-Gazette]
• Said Butler's Shelvin Mack, whose really bad foul a split-second of game time earlier almost cost his side the game, "It was probably the worst foul in Butler history. But then the dude from Pittsburgh made up for me." [Indianapolis Star]
G/O Media may get a commission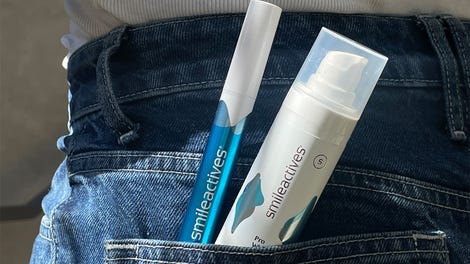 58% off
Whitening Powerhouse Pen & Gel Duo
• San Diego State outlasted Temple in double overtime. "I guess it's better to have an ugly win," Kawhi Leonard said, "than a pretty loss." Yes, Kawhi, it is. [SignOn San Diego]
• Watch Charles Barkley blame Louisville for busting his horrendous-in-every-way brackets. Watch him do this right in front of Louisville coach Rick Pitino. [SportsGrid]
• Brian Wilson of the San Francisco Giants has soreness around his rib cage. He may not pitch on Opening Day. [San Francisco Chronicle]
• Former Rams/Oilers/Falcons WR Drew Hill died Friday after suffering two strokes earlier in the week. He was 54. [Times-Herald]
• As far as the NFLPA is concerned, NFL Commissioner Roger Goodell is a peddler of false statements. Thus, they continued the back-and-forth letter-writing campaign that has taken the place of any semblance of maturity. [New York Daily News]
• In yesterday's match against Getafe, Dani Alves scored a lovely goal for Barcelona, and for ailing teammate Eric Abidal, who underwent surgery for a liver tumor on Thursday. Getafe's Manu del Moral scored an equally lovely volley a couple minutes from the end of the match to cut Barca's lead to 2-1. Afterward, Getafe coach Michel had some kind words for his opposition with a rallying cry for the also-rans of the world.
"You realise that players have to enter the field but we must forget about reputations. Sometimes it feels that too much respect is given to teams like [Real] Madrid and Barcelona, ​​and that makes things so much easier for them.'' [Goal.com]
• Here's a story about the soccernomics of today's Chelsea/Manchester City match. [Sporting Intelligence]
Recently On Deadspin
A few stories you might've missed.
Butler Did It: In a memorably sloppy mess of an ending, last season's runner-up Butler knocked off No. 1 seed Pittsburgh last night.
Hypeman: ESPN, Jalen Rose, And The Manufactured "Uncle Tom" Controversy.
Boxing's Bob Barker: Bernard Hopkins wants pit bulls spayed and neutered.
Flashbacks: The way-back machine arrived in 1990.