There's simply never enough intrigue and entertainment to be had from Manchester United to fully sate our appetite. Either they're crushing all opponents at home and abroad, as they did during Alex Ferguson's tenure, or they're shitting all over themselves, the way they have in the few years since Sir Alex left. While it's long been evident that the two eras are inextricably tied together, there's one theory out there that purports to explain just how fraught the struggle in Manchester between past and present really is.
What you'll find below is a collection of tweets from @RedIssue, the Twitter account of the Red Issue private forum, a Manchester United-centric fan message board that claims at least to be the home of some of the juiciest, most insider-y news and rumors and speculation regarding the club. Like many alleged club insider Twitter accounts, there's no reason to believe it's anything more than the kind of distant yet informed speculation many super-dedicated fans of any team could provide. That, however, should not prevent you from gobbling it up and laughing at how surprisingly plausible it sounds.
First little backstory: once upon a time, two historically powerful soccer minds, Alex Ferguson and David Gill, controlled every little aspect of Manchester United. Under their leadership—Fergie on the pitch, Gill in the boardroom—the club became the best and biggest team in the world.
Then, Fergie and Gill both decided to retire from their positions in 2013, taking up lower-profile (and thus lower-power) backroom roles at the club. In place of those icons, United hired David Moyes and promoted Ed Woodward, who had proven his fiscal acumen heading up the club's commercial operations.
Moyes was obviously a disaster, and Woodward likewise has failed to live up to Gill's lofty standard. Woodward has spent enormous sums of money to improve the team yet repeatedly blown it on subpar players. Ferguson and Gill unquestionably deserve some of the blame for United's past few years, seeing as they relinquished their shared captaincy of the ship just as its staff of aging deckhands began breaking down, but Woodward and his two managers have demonstrated an almost comical inability to get the thing back on course. And as many fans had feared for years, the growing suspicion is that the Glazers have been more concerned with the club's financial well-being than its status on the pitch.
G/O Media may get a commission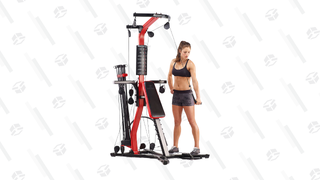 31% Off
Bowflex PR3000 Home Gym
That brings us to the present. Woodward's newest managerial selection, Louis van Gaal, hasn't brought the team the immediate success he was supposed to, and most of the players they've signed have also underwhelmed. Facing intense fan scrutiny and the risk of a Liverpool-eque fall from grace, the next steps taken will be crucial.
Now, the speculation: all over the English press, reports are that Woodward's Hail Mary solution is to hire José Mourinho this summer, give him the kind of power Sir Alex had in his heyday, and hope The Special One can work some of his old magic at Old Trafford. There had been talk of finally handing things over to club legend and Class of 92 alum Ryan Giggs, who has been groomed for the manager job for years now, but at such a pivotal moment in the club's history, it makes sense that they'd elect for the proven hands of Mourinho.
But according to the people at Red Insider, things aren't exactly that clear cut. (Notes on the tweets: "Charlton" refers to Bobby Charlton, one of United's most famous players who retains an important role in the board; Co92 refers to the aforementioned Class of 92, guys like Giggs and David Beckham and Gary Neville, who were a group of British players Ferguson built his most successful teams around and who still epitomize the Fergie era):
So was Ferguson snubbing Mourinho in favor of Moyes in 2013 really the final act of an incredibly long, intricate, secret plot for revenge? And are Fergie and Gill trying to get back some of their lost power by getting Giggs in the hot seat? And is Woodward hiring Mourinho while distancing the club from the stars of the Class of 92 a naked power play to wrestle control away from the figures of the past for good? I have no idea, but I'm choosing to believe it all.

h/t Michael Caley
Photo via Getty