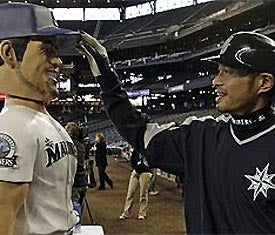 Ever wanted a six-foot doll of Raul Ibanez? Well, boy howdy, this could be your lucky day. As long as you have four figures to spend.
The Mariners are auctioning off life-sized — bigger than life-sized, actually — bobblehead dolls of Ibanez, Kenji Johjima, Felix Hernandez and Ichiro Suzuki. Bidding begins at $2,500 on the Mariners' home page.
Just for the sake of discussion — and to help you with your decision whether or not to buy — if you were to purchase a Real Doll, it could cost you $6,500. So this thing could pay for itself!
Supersized Mariners Bobbleheads [Home Run Derby]
Real Doll [Official Site] (NSFW)
(By the way ... commence "they need a Rick Ankiel lifesize bobblehead for Leitch ... NOW.)