Yesterday we brought you news of a spat between the Yankees and StubHub, "the official ticket reseller of Major League Baseball." The Yankees aren't drawing, and they can't even move their own unsold tickets because they're being undercut by StubHub. (As I write this, it's five hours before first pitch of David Price vs. C.C. Sabathia with first place in the AL East on the line, and there are hundreds of seats still available for under five dollars.)
But how bad is it? For some data, we turned to Will Flaherty from SeatGeek, the online ticket search engine that compiles data from hundreds of resellers. He was able to compile the prices and locations of every ticket sold through SeatGeek through the first two months of this season, and compared that with the face value prices offered up at Yankees.com and the box office (Not including the day-of-game premium the Yankees tack on to seats sold at the ticket window). The numbers don't include the luxury boxes or Legends suites, but one thing is very clear: You're a fool if you're paying face value for Yankees tickets.
Here are the numbers:
G/O Media may get a commission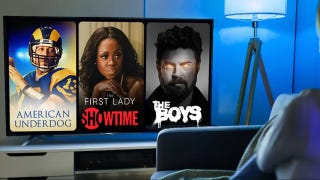 UNDER $1
99¢ Prime Video Channels
Two takeaways. In total, 66.39% of Yankees tickets tracked were sold at a price under face value. The average Yankees ticket was resold at a discount of $10.96 — 17 percent off — from an average face value of $65.10.
Who likes trends? The general rule is as the seats get more expensive, they're both more likely to be sold under face value, and the average discount is larger. Only in the bleachers and the wings of the upper deck are ticket holders likely to fetch a profit, and it's a meager one, wiped out by StubHub fees. (And even then, a majority of those cheaper seats are sold below face value.)
Here's a heat map of Yankee Stadium showing which sections are being resold at the biggest loss. Click to enlarge.
So Yankees tickets are cheap. That's great news for the fans buying them from the secondary market, but not so great for the Yankees or for season ticket holders. The team is being undersold for its own product, while the season ticket resellers, the ones who re-upped their ticket packages with the intent of selling unused seats, are taking a bath. That'll make them less likely to buy another package next season, so the Yankees lose again.
The Yankees want StubHub to set a minimum price on seats, but the fact remains that the Yankees severely misestimated the market, and are falling victim to it. Flaherty writes,
The one lever that the Yankees do have full control in is their box office pricing, and they've done virtually nothing to align their pricing with market demand. Virtually all MLB teams apart from the Yankees employ some degree of variable pricing (e.g., a higher price tier for weekend games versus mid-week games), and 17 of the 30 teams in the league employ full-on dynamic pricing, meaning that price changes are made daily in accordance with demand factors (e.g., opponent, day of week, weather, etc).

The Yankees, meanwhile, have an essentially flat price for each and every game — whether it's a Saturday day game against the Sox or a Wednesday night against the Royals. Their only price variation for single-game sales — a higher price for tickets bought on gameday — could even be seen as foolhardy in the sense that tickets prices on secondary market sites virtually always decline 20-25% within the last 24 hours before a game or event.

That rigid pricing, of course, means the Yankees can't adapt prices to match demand. Much to the team's chagrin, the secondary market is doing that job for them.
Photo via Flickr user ouchelun