"Men invented nepotism and practically live by it. It's okay for women to do it, too." All week long, I've been thinking about that quote from Roxane Gay's forthcoming essay collection, Bad Feminist—a prayer-hands-emoji-inducing aphorism that echoed again during last night's premiere of The Maya Rudolph Show, a campy, one-hour variety cabaret echoing both Carol Burnett and the Muppets.
During the opening number, Rudolph danced and sauntered across the stage while showing off three enviable cocktail dresses: a retro pink chiffon frock; a shimmering, inky-black floor-length gown; and a sheer-and-tinsel dancer's mini. She introduced her trio of sidekicks: funny men Sean Hayes, Fred Armisen, and Andy Samberg. And between jokes about having her own stage, audience, and Laker Girl backup dancers, she belted out this crucial statement of purpose: "It's my show, and for one full hour / I've got infinite power, and millions to blow."
Maya Rudolph is a beloved Saturday Night Live veteran, and the daughter of soul singer Minnie Riperton and music producer Donald Rudolph; she also happens to be a black woman in Hollywood, and the working mother of four children. Through hard work and legacy, she has accumulated a certain cache and level of power in an entertainment industry traditionally hostile to funny, non-white, real-bodied, and aging females. During her seven-year SNL tenure, she mastered the art of inspired goofiness; her impressions of Oprah, Maya Angelou, and Donatella Versace were both hilarious and helpful in broadening the show's topical breadth. (Her enduring love of song also enhanced a recent so-dumb-its-funny Portlandia skit.) She even reprised her perpetually wind-swept Beyoncé impression on SNL's cold open this past weekend; recent real-life elevator hijinks demanded it.
Last night, in a one-off tryout for a possible series, she breezed through a series of variety-show musical numbers—including a sweet little acoustic duo with Chris Parnell about how gross and tiring it is to be a parent—and sketches riffing on the strange voices found on Garmin's GPS system and a hypothetical sequel to Disney's Frozen. Anyone who got a thrill watching Rudolph drop "WATERMELON" and "SURFBORT" jokes Saturday night may have blanched at all the mom jokes Monday, right down to "Hey, check out my drop-crotch pants!"
Not that it matters if The Maya Rudolph Show wasn't as hilarious, or as "edgy," as that scene in Bridesmaids where she takes a shit in the street while wearing a wedding dress. In an era where TV writers are lifting gags from Twitter, and Vine continues to stay afloat thanks in part to comedy by droves of "so funny you'll soil yourself" women, Rudolph's takeover of a spot that feels suspended halfway between prime-time and late-night—a time-slot historically dominated by men—feels like a siege. A very charming siege led by a radiant actress. When you have access to infinite power, there's nothing to do but rub it in everybody's faces, on network television.
G/O Media may get a commission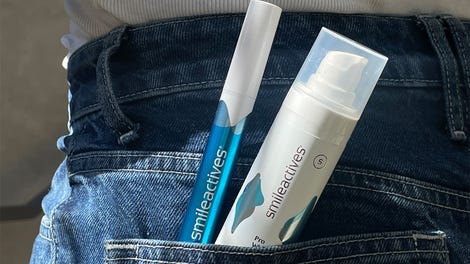 58% off
Whitening Powerhouse Pen & Gel Duo
This matters, because now matter how much my girlfriends make me laugh, and how many hours I waste tracking the exploits of Viners like Jelly SoSevenVard, and how many think-pieces I read in support of superstar comedians like Tina Fey, Mindy Kaling, and Julia Louis-Dreyfus, there is this lingering, odious myth that women, particularly women of color, are not as capable of being as funny as men. (See SNL's clumsy, endless search for someone to fill the hole Rudolph left.) So when you have friends like Lorne Michaels (to take your idea to NBC), Kristen Bell (to be a guest star so perfect she almost steals the show), Raphael Saadiq (to lead your in-house band), and Janelle Monáe (as the musical guest), you really have no choice but to make nepotism finally work for you for a change.
If The Maya Rudolph Show is renewed as a semi-regular addition to NBC's lineup, Rudolph will hopefully retain her excellent supporting cast (particularly Bell), but shoot for a slightly more coherent mix of the high- and low-brow, trusting that a fan base she built off of toilet humor and bawdy impressions can comprehend more sophisticated gags, and that older folks raised to revere the "glamour" of the variety-show format can handle, well, a little more toilet humor. But even if what we saw last night was far from perfect, there's no question that it was rare, and important, and long overdue.