Yoni Brenner is a Shouter & Murmurer for The New Yorker and a screenwriter on Ice Age 3: Dawn Of The Dinosaurs. He gives you this.
More curious facts and explosive secrets from the life of America's favorite NFL Draft guru.
• For all Mel Kiper Jr.'s visibility, few people are aware of The Kiper Foundation: a unique charitable organization that matches notable first round busts—such as Lawrence Phillips, Tony Mandarich and Akili Smith—with loving homes, where they enjoy regular baths, three square meals a day, and a slightly irregular cream-colored jacket, donated by the Hall of Fame gift shop.
• Many have questioned why Mel Kiper Jr. has ranked Notre Dame quarterback Jimmy Clausen ahead of the Heisman winner, Sam Bradford. In fact, Mel Kiper Jr. considers the prospects evenly matched, and left the decision to a coin-toss. The winner was Clausen; who threw the coin an impressive 36 yards, versus Bradford's toss of 29.
• In five weeks in the Galapagos in 1835, Charles Darwin identified 12 separate species of finches. After watching a 90-minute documentary on the Galapagos in 2001, Mel Kiper Jr. identified 35 species of finches, ranked them on strength, quickness, and "football instincts," and correctly predicted that a land tortoise named "Jorges" would go to Indianapolis in the sixth round.
G/O Media may get a commission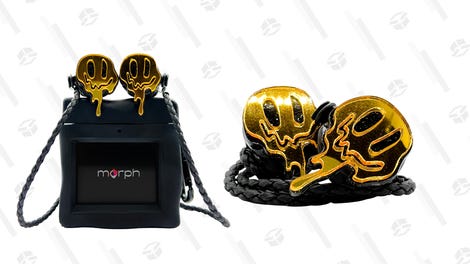 morph audio
Morph Earphones
• Most people assume that Mel Kiper Jr.'s famous "Big Board" is figurative—it is not. The actual board is over 120 feet long and 80 feet high, constructed of beechwood and polished slate. It is located somewhere off the coast of Sumatra, inside a massive granite island the shape of Mel Kiper Jr.'s head.
• Mel Kiper Enterprises Inc. is best known for publishing the Mel Kiper Jr. Draft Report, and the Mel Kiper Jr. NFL Draft Preview. But it also produces sparkplugs, a popular line of artisanal soaps, and currently stands as the fourth-largest distributor of butane in North America.
• Although few question his knowledge of the game, Mel Kiper Jr. has donned football cleats only twice in his life. The first time was a Halloween party, where he arrived dressed as Johnny Unitas and refused to break character for the duration of the evening. The second time was on his wedding night, when he emerged from the bathroom dressed as Johnny Unitas and, again, refused to break character.
• There is considerable speculation as to how Kiper Island came to be shaped exactly like Mel Kiper Jr.'s head. Some claim that it is the work of an ancient, draft-obsessed civilization. Others contend that it is a sort of "living purgatory," poised between past, present, and at least two hypothetical futures. One thing, however, is certain: Every year, with every draft, the head gets a little bit bigger.
• In 1776 Thomas Horatio Kiper III, Mel Kiper Jr.'s great-great-great-great-great-grandfather, astonished the American colonies when he correctly predicted 50 of the 56 signers of the Declaration of Independence. Kiper went on to moderate success in the early years of the Republic—picking such founding fathers as James Monroe, John Marshall, and Alexander Hamilton; as well as several notable flops, including Ebenezer Chuzzlewit, Ira Schwartz, Engelbert Kloppenhoffer, and Ryan Leaf.
• Breaking down thousands of hours of game film every year, Mel Kiper Jr. generally burns out at least three LCD screens per season. However, instead of taking a breather until his new television arrives, Mel Kiper Jr. simply plugs a coaxial cable into his shoulder and lets the footage just "flow through him" like heroin.
• There are only three ways to escape from Kiper Island. One: private zeppelin. Two: the supplemental draft. Three: venture deep into the maze-like chambers of Kiper Island and defeat the terrifying beast—half-bull/half-Kiper—known as the "Melotaur"
• It is widely accepted that by 2014 Mel Kiper Jr. will have a nuclear weapon.