Ask a group of Mets fans what they want and you will get a variety of different answers. Some, maybe many, will say "hard drugs, the hardest you've got" and others will start talking about signing Manny Machado before trailing off and just staring into the middle distance. Bring the focus in some with the question, is my advice. These people are hurting. Ask, carefully, what do you want from the rest of the season and filter out the drug-requests, and you'll get more or less the same answer: a chance to say goodbye to David Wright. The franchise cornerstone, who spent more than two years rehabilitating various injuries and will return for one last start on September 29 and then enter a liminal sort of retirement that will allow the Mets to continue to collect insurance on his salary. That part's too sad to go into, really, but Wright was indeed activated today as planned, and will be available for the team's last six games.

The first three of those games will be against the Atlanta Braves, who clinched the National League East three days ago; the game that Wright is slated to start is the first of the season-ending three-game series against the Miami Marlins. Standing-room tickets for Wright's farewell start are currently going for around $75 on StubHub; tickets to the other games can be purchased for $2. The Mets season has been over for months, the team is a zombie that has somehow developed the ability to take a bunch of called third strikes. For this team, there is no significant baseball left to play.
Sending off David Wright is all that's left, and the best and arguably only reason to attend one of the team's last games is the off chance that Wright might come out for a pinch-hitting appearance. This is bleak even by Mets standards, but it is also easy. The games do not matter; the chance to thank Wright for his brave and faithful service to this wimpy-weird organization, for the masochists and saddos who care about the team, really does. This is an easy one, something so simple that even the strangest and most reliably self-thwarting ownership group in the sport couldn't fuck it up. You probably know where this is going.
On Tuesday, Mets acting interim co-GM John Ricco announced that the team will almost certainly not use Wright in any of the upcoming three games against the Braves.
G/O Media may get a commission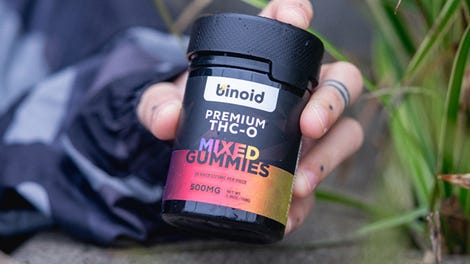 25% Off + Free Shipping
Binoid THC-O Gummies
Given that Wright struggled somewhat to make plays in the field given his injured back and shoulder during his minor league rehabilitation assignments, and further given that the Mets then just kind of let him hang around in limbo for a few weeks after the minor league season ended, this could almost be justified. But the team could still use him to pinch-hit, right? Well.
Manager Mickey Callaway also announced that José Reyes, who lined up alongside Wright at shortstop during the team's best seasons during the last decade before returning to the team after serving a domestic abuse suspension, will be playing shortstop on Saturday during Wright's farewell. It could probably be argued that letting Reyes put up a .190/.263/.321 slash line in a whopping 244 plate appearances this season was overly respectful of other teams' wishes, but I think I'm going to lie down for a little bit instead of doing that.