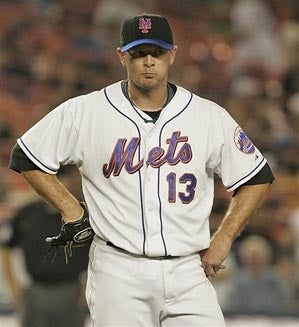 We're going to be at Shea Stadium tonight to see our Cardinals one last time, but the real drama will be with the Mets, who are imploding in a rather dramatic way.
The Mets have lost three in a row at home, are just one game up on the Phillies and have the look and feel of a team that died three weeks ago and is just now starting to stink. And Mets fans have had enough.
This team sucks. And they don't suck in a wet-behind-the-ears way that makes you want to see what they'll turn into next year. They suck in a way that makes you want them to just go away. Which it certainly looks like they'll be doing at the end of the week.

And really, honestly, how can you care about this pathetic baseball team? Horrifying mental mistakes, stupefyingly dumb tantrums at umpires, ludicrous mismanagement of the bullpen and roster, listless play and innings and innings and innings of bad baseball — which part of this rancid stew makes you want to remember your boyhood heroes, or daydream about green fields and summer nights? And should the Mets somehow pull out of their death spiral, which part of it makes you want to fork over $75 a night to watch them sleepwalk through the first week of October against the Cubs or Padres?
We caution against that mindset somewhat; we could have said the same thing about our Birds last September, and that turned out rather well. But if the Mets fall behind early tonight, and the Phillies take a lead on the Braves ... Shea's gonna be an ugly place to be tonight.
Gutsy Mr. Metsie [New York Observer]
Look Elsewhere ... [Faith And Fear In Flushing]