After all the buildup and nonsense over the weekend, of course this series would end in a Miami blowout. What could have been a dramatic will the Heat be able to pull together? kind of game turned into a Miami romp over the Pacers. The Heat won 99-76 thanks to a typical LeBron James performance, an atypical Dwyane Wade performance and a monster second quarter.
Wade had 21 points days after saying he needed more opportunities. He did take five more shots than he had in the previous game, but he was also much more efficient. LeBron is at the point where he has to either screw up magnificently or drop 50 for anyone to notice; his regular is 30-35 points, 9 boards and five assists and he never looks more casual than when he is gliding through the air like on the alley-oop from Cole in the third quarter. He scored 32 tonight and didn't take a shot in the first five minutes.
Chris Bosh continues to be...present. He was 3-13 and notched nine points, which was actually an improvement for him.
The game was mostly an afterthought once the second half started. Paul George was invisible and Roy Hibbert came back down to earth some and the Pacers learned that actually having home-court advantage is much more desirable than temporarily stealing it.
G/O Media may get a commission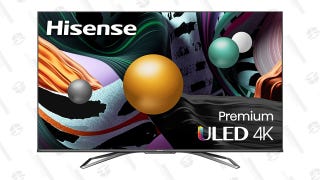 Save $350
Hisense ULED 65" Android 4K HDR Smart TV
So Miami advances to play the Spurs in the finals and Indiana will have to live with the bad taste of this game in its mouth for the long off-season. It won't be much sooner for the rest of us; Game 1 in Miami is Thursday.

Photo Credit: Getty