As an increasingly hopeless Wizards fan, I feel qualified to say this to everyone who'd hoped the early season would look more promising for the young Minnesota Timberwolves: this is just sorta what happens when a team is rich in talent but poor in, you know, really knowing how to play good NBA basketball. There might be one player on Minnesota's entire roster who has a first-hand idea what coherent NBA basketball looks like, and his name is Ricky Rubio, and he has never once been on an NBA team that won more games than it lost.

Minnesota's five regular starters—Karl-Anthony Towns (110.1), Gorgui Dieng (106.5), Andrew Wiggins (107.5), Zach LaVine (108.7), and Rubio (111.5)—have the five worst Defensive Ratings on the team. You can start to understand why that's especially problematic when you observe that Minnesota's most-used lineup—Towns-Dieng-Wiggins-LaVine-Rubio—has played together for more minutes per game (20.7) than any other five-man lineup in the league. That sort of minutes distribution is a Tom Thibodeau specialty, but in Chicago those minutes were at least going to a lineup that was reliably a winner. This lineup's ghastly minus-10.7 net rating is 4.5 points worse than the next worst (the Knicks, natch) in the top 10 most-used across the NBA.
Considering the talent drop-off from those five players to the next five guys in Minnesota's rotation, it's something of a miracle that the team's overall net rating is somehow ranked in the top half of the league. But, I dunno, when you watch the Wolves, does it seem like any of Minnesota's most promising young guys have much of a clue just what the hell's going on around them? For that matter, does it often seem like 21-year-old NBA players have much of a clue just what the hell's going on around them? Minnesota's three most promising players are 21-year-olds. They can legally drink! Can they figure out how to win games? TBD.
The situation the Wolves find themselves in is one in which their roster is virtually bereft of NBA veterans with experience on winning teams, with a head coach who desperately, urgently wants to start winning games. It's no wonder, then, that the rumor mill already has Thibodeau on the brink of dealing away one or more of the team's young players for "a player he trusts." Behold:
G/O Media may get a commission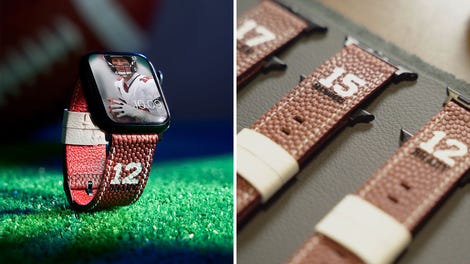 Official NFL PRODUCTS
Official NFL Apple Watch Bands
There's an obvious logic to this. One of the big complaints about Sam Hinkie's multiyear tanking project in Philadelphia had to do with the inherent zaniness of hoping to suss out and wring out the potential of very young players in an environment lacking quality veterans to help them along. For the most part, Minnesota's young guys are in a whole different class, talent-wise, from the young guys assembled in Philadelphia, but, if anything, that gap serves mostly to reinforce the notion that there's something severely lacking: Philly's shabbier all-youth makeup brings years and years of constant losing; Minnesota's glossier all-youth makeup brings maddening inconsistency and a massively disappointing start to the season. If Thibs thinks the real deficit is in stable rotation-grade veterans, it would be hard to make much of an argument otherwise.
Minnesota's bench, for example, is among the least productive in the NBA. The Wolves score around 103 points per game, and a whopping 81 of those points come from their five starters; 64 of those points come from just three players (Wiggins, Towns, and LaVine). The bench, though, suffers from the same lack of dynamic veterans, and shoring it up with one or two replacement-grade types isn't likely to somehow turn Minnesota's starting five into an average-or-better defensive group, nor reverse their hideous net rating. But something has to, if the Wolves hope to contend for a playoff spot this season—they simply will not make it if their most heavily used lineup is spotting the opposition almost 11 points per hundred possessions.
This presents a problem, because good, starting-grade NBA veterans who'll move the needle for the Wolves aren't likely to be available in trades for the likes of Tyus Jones and Shabazz Muhammad. In order to pry one loose, the Wolves will probably have to part with one of their core young guys, and the most obvious candidate is Ricky Rubio, the one of them who, at 26, is closest to his prime, and would therefore seem to be on a different timeline than the rest. The problems there are twofold: Rubio is having a down year, statistically, posting career lows in points (6.1), assists (6.7), and steals (1.5) per game; and Rubio's backup—who'd stand to get most of his minutes were Rubio traded away in a package for, say, a starting-caliber big or a quality sixth man—is rookie Kris Dunn. Even in getting older and savvier the Wolves would be getting younger and clumsier.
And, as Mark Cuban pointed out recently, this is the rare NBA season when most teams expect and hope to win games, with very few engaged in anything that even resembles tanking. As long as that is the case, trading for veterans of real consequence with a future asset (like a first-round pick) might not be as easy as in recent years, especially given that any such trade would be designed to make the Wolves better right away, a result that would diminish the value of the exchanged pick.
The tightrope, then, is identifying veterans who, in replacing one of Minnesota's exciting young guys, can raise Minnesota's current level of play without diminishing its long-term potential, and prying one loose without opening up another gaping vulnerability in the team's rotation. Or hoping Thibs can stay upright long enough to really give the exciting young guys a chance to figure things out on their own. One of the NBA's most dependable outputs is squandered potential, and avoiding that fate will be especially tricky for a wildly talented Timberwolves squad that right now is better at losing games than it is at winning them.
Minnesota's next 10 games are against teams around or above .500 (Detroit, the only losing team during that 20-day stretch, has a positive point differential on the season, even after their decisive loss Saturday night in Oklahoma City). We'll learn a lot about the Wolves over these games: maybe they'll hang tough and give Thibs confidence they can figure things out organically; maybe they'll continue to flail and find ways to lose, and put themselves in such a hole that making a win-now move starts to make less sense; or maybe the shoddy defense and consistent inconsistency drive Thibs to do something dramatic. One way or another, these Wolves are evidence that moving up from the NBA's bottom is just as perilous a rise as the fraught, mythical, and possibly alchemical one from good to elite.