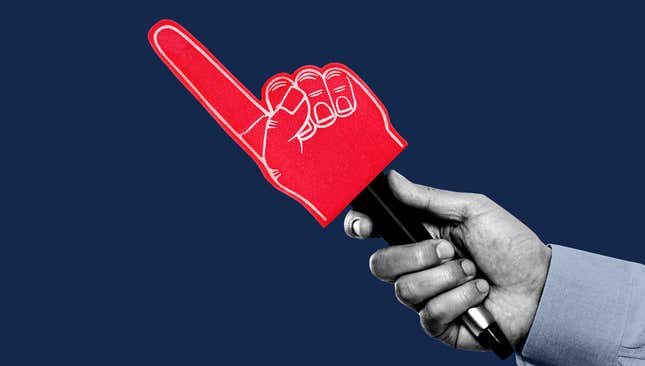 To most of the sports world, Steve Robertson's role in the greatest spectacle in college football this year has been a small one. Robertson, a recruiting writer for the Mississippi State fan site Gene's Page on Scout.com, is the guy who found The Call, a one-minute entry in the record of Ole Miss head coach Hugh Freeze's university-provided cell phone to a number once owned by a Tampa-area escort. The Call is what led Freeze to resign on July 20. But The Call is the end, not the beginning, of Robertson's relationship with the spectacle.

Robertson's start in the world of college football gossip was inauspicious. His father is a graduate of Mississippi State, and the first game he ever attended was a 6-3 win over Alabama, the biggest win in school history up to that point. "I don't know if I had a choice in the matter," he says of what became a lifelong fandom. Robertson was working as a manager at a furniture store in Starkville, Miss. in the early 2000s when he began publishing something he called The Robertson Report. Every week he tried to predict the score of every SEC football game, along with his rationale for the score. The attempt caught the eye of Gene Swindoll, an accountant and fellow Mississippi State obsessive who had his own site, Gene's Page. Swindoll offered Robertson $50 per column, and Robertson accepted.
Robertson's wife Dana knew her husband always harbored dreams of becoming a writer, among other things. When they first met as students at Southern Mississippi University, Robertson had just been released from jail. At 19 he had already completed rehab for alcohol abuse and done six months of boot-camp style probation after getting charged for four counts of commercial burglary. But Robertson was smart and on the straight and narrow, and within a year the two were married. Along with holding writerly ambitions, Robertson also wanted to be a rock star, a dream that led him to sing backup with a short-lived dance group called C'Vello, which released one quickly-forgotten album on RCA.
In between the dreams, Robertson provided for his family. He quit school so he could earn money while Dana kept studying towards a nursing degree. He worked construction, collected debts, managed the furniture store, and, eventually, in what would be his last job before becoming a full-time writer, served as branch manager for a company that made subprime loans to homeowners. Robertson was laid off after the bubble burst, and told Dana he wanted to make a go of writing. "It was like walking out on a plank," she says of the moment, which came at a time when the pair already had three children. "It was a scary time." But though Dana had at first considered Robertson's football obsession just a hobby, she saw in him one characteristic that might allow him to make it a career. "He just has a perfect memory," she says. "That's why he became so popular."
Robertson used that skill and the fandom gifted to him by his father to build a base of support. He soon became one of the main reasons Mississippi State fans—and fans of rival Ole Miss—visited Gene's Page. He started a podcast called The Boneyard, covered the recruitment of athletically-gifted teenagers with the attention to detail his fellow obsessives craved, and, eventually, started getting tips. Those tips led to a transformation.
There are lots of people like Robertson in college football-mad places like Starkville, a university town which is just that: a town. Even if you were to combine the populations of Starkville and Oxford, the home of Ole Miss, you'd still have a place with only 45,000 full-time residents—a "city" smaller than Biloxi. Like a lot of small towns obsessed by sports, Starkville runs on rumor, the sort of innuendo a prominent writer like Robertson was more privy to than most. Rumor fuels message boards, the public squares of college sports; it makes minor celebrities of men (they're always men) with vague "sources" who manage to see the world more clearly than the people who are actually paid to write about that world. What marks Robertson as different from this familiar archetype is what he did next. In fits and spurts, over the course of a few years, Robertson became the journalist he thought other actual journalists were refusing to be.
---
Robertson says his first indication that all was not right at Ole Miss came almost five years ago. He got a call from a man who knew someone who proctored the ACTs, one of the tests every high school athlete needs to pass to play college sports. The tipster wouldn't offer Robertson his name, but did reveal his motivation for calling. "He was worried if he went on the record he might end up getting people fired," says Robertson. "But his bigger concern was that he knew something and couldn't wait to tell somebody."

The tipster told Robertson what he knew. The school was allegedly asking recruits from many states away to come to one small room in Mississippi, where a friend of the program was proctoring the test and changing answers to help those recruits pass. In the realm of NCAA crimes, it was a solid felony. It was also thinly sourced even by the standards of college football, a world where thinly-sourced gossip is the norm and not the exception. ("85% of what you hear is fake or only half true," says Robertson.) He filed it away and kept working, though what happened months later provided him good reason to at least consider that the rumor might be true.
In 2011, while coached by Houston Nutt, Ole Miss won only two games. In 2012, after Nutt was fired and Freeze hired, the team won as many as it lost. Then, on signing day the next year, not long after Robertson got his first tip, Ole Miss surprised the college football world by bringing in one of the best recruiting classes in the country. Some of the recruits made sense—the nation's top-ranked player, Robert Nkemdiche, for example, was an obvious fit, since the defensive lineman's less-talented older brother had been brought to Oxford years earlier.* Some made less sense. "There's no reason (top-ranked wide receiver) Laquon Treadwell from Chicago would turn down Ohio State and Michigan to go to 6-6 Ole Miss," says Robertson. "There were whispers." Those whispers attracted the notice of Freeze. The coach who began every morning by texting a different Bible passage to his staff invited the scrutiny. "If you have facts about a violation," he wrote in a later-deleted Tweet, "email compliance@olemiss.edu. If not, please don't slander the young men." Freeze later attributed his team's recruiting prowess to good preparation, some luck, and, above all, divine blessing. "I say it's God's favor," he told Sports Illustrated of the haul.
As Freeze revamped the Ole Miss program, Robertson kept getting tips. One man called from Tupelo to tell him that a friend of his had just been interviewed by the NCAA. The friend had actually been on the phone with an Ole Miss football coach, the tipster claimed, when the investigator pulled up to his house. Robertson knew there were boots on the ground all over the state, but he was hesitant to say anything publicly. Instead, he figured he would farm the story out to those with the institutional power to investigate.
"Absolutely nobody was interested," he says. "One thing I've learned about sports journalists, a lot of them wanna just go to the ballgame, get good seats, and eat free food."
Finally, on October 2, 2014, one small portion of the story came out when Yahoo Sports's Pat Forde reported that Ole Miss was under investigation. Forde's story cited sources that claimed the investigation had nothing to do with Freeze's tenure. But still, Robertson was hopeful that it would lead to more reporting, the kind he had been trying to generate by passing tips along to some of the state's biggest college football writers. Then, three days later, Ole Miss beat perennial SEC favorite Alabama for the first time in 11 tries. Ole Miss was 5-0 for the first time in more than half a century and, says Robertson, "Pat's story got washed under foot."
A year later, Freeze's Rebels made it to the Sugar Bowl for the first time in 46 years, won, and finished the season ranked in the top 10. Robertson then took to his podcast and made a comparison. Befitting a man who had once tried to make it in the early '90s dance scene, Robertson likened Ole Miss's sudden success to the Grammy won by Milli Vanilli, a band synonymous with cheating. "I believe it's going to be a very, very, very, very interesting year for the University of Mississippi," he said. "If you get sloppy you better not win too much."
---
Robertson was emboldened because he could finally see the cracks forming underneath the feet of his favorite team's rival. The very first tip he received, the one about the ACT tests, was bearing fruit in another state. Robertson knew that an assistant coach at the University of Louisiana-Lafayette named David Saunders was under investigation. The significance: Saunders was accused of shuttling ULL recruits to a small high school in Mississippi to take their ACTs—the same school, in fact, where Saunders had sent recruits when he worked for Ole Miss, which led to Robertson's tip. He knew Saunders was due for a severe punishment and, sure enough, five days later Saunders got one: an eight-year "show-cause," which effectively meant he couldn't be hired by an NCAA institution until 2024 without first going before a panel to argue his case.

In Flim Flam, Robertson's book about the Ole Miss scandal, he describes what happened next as a "watershed moment in the story." Ole Miss had just acknowledged its receipt of a letter from the NCAA, formally informing the school that it was under investigation. But in an exclusive interview with the state's biggest newspaper only weeks later, Ole Miss's athletic director Ross Bjork said that the investigation into the school was already over.
After quitting his job to write about football full time, Robertson decided that he didn't much like getting haircuts. Not long after he noticed his hair naturally starting to form into dreads and decided to go with it. Not long after that he got the first of what would be dozens of tattoos, leading to a portmanteau he's embraced: tattooligan. Gene, Dana, and others who know him well describe Robertson as a deeply committed family man with a surprising conservative streak. But his appearance suggests something else entirely. Robertson used that unconventional look to highlight the fork in the road facing Mississippi sports fans.
"On the one hand," he writes in his book, "you had a popular administrator, Bjork, making claims in the paper that most Mississippians have turned to for news within their state for decades. On the other hand, there was this long-haired, tattooed, Mississippi State Bulldog's sports writer, riding a wave of popularity, which social media and message boards had provided, who was the lone voice among media outlets calling the whole Ole Miss message into question."
Robertson said Bjork was wrong: that the investigation wasn't over; that, contrary to Bjork's assertions, it wasn't primarily concerned with Houston Nutt's tenure as head coach; and that there would be more notices from the NCAA. In every case he was right. And because he was right, Robertson started getting credit for things he hadn't even intended to predict. Like NFL draft night, 2016, when Ole Miss star tackle Laremy Tunsil's social media accounts were hacked, a picture of him smoking a gas mask bong was posted minutes before the draft began, and alleged texts showing alleged payments from Ole Miss boosters were posted on his Instagram feed. Tunsil slid in the draft. He essentially admitted to getting paid by his college coaches in a post-draft interview before being pulled away by a representative of his agent, Jimmy Sexton, who also represents Freeze.
People like Neal McCready, a competitor of Robertson's, then told me that Robertson had predicted the whole thing. McCready related the story of how Robertson, in the days after Bjork's interview, published a cryptic photo of the skyline of Chicago, the site of that year's NFL draft, as if to say "it isn't over." When the drama surrounding Tunsil unfolded, McCready thought back to that photo. In reality, the photo had nothing to do with the draft. "To suggest I knew in advance about the Tunsil hack is laughable," Robertson told me. No matter. The point is clear—Robertson was no longer just some "tattooligan" with a podcast. He was now capable of delivering prep prophecy.
---
By last summer, Robertson had moved on from merely trying to tip off the state's biggest college football reporters to openly antagonizing them. To Robertson, the fact that Ole Miss was hiding the names of the boosters and supporters listed in the NCAA's letter was unreasonable—other schools faced with the same dilemma, he discovered, had revealed the names of their boosters. So he did some digging, figured out what names were behind the redactions, and then went on The Boneyard with an offer to give them to any reporter who asked. None did. To Robertson, the incuriosity of the state's reporting press was absurd. Here he was offering a huge scoop involving the biggest sports story in Mississippi and no one would take him up on it. "The longer I waited for in-state media to do anything, the more frustrated I got," he says. "I just thought to myself, 'What are these people doing with their lives?'" So Robertson decided to do something about it.
Simply releasing the names he'd uncovered wasn't going to fly. Everyone in the state had seemingly lawyered up and, much as the past few years' experiences had told him to trust his instincts, he wasn't going to bet his livelihood on the fact that he had the right names. Instead, Robertson decided to do what he thought a journalist should've done. In Mississippi there was a formal process for what he was after. All he had to do, he realized, was make a request to the state's ethics commission and wait. Eventually, the commission realized that Robertson was right—Ole Miss was hiding something most schools knew to make public—and compelled the university to release the names, which matched perfectly to the list Robertson had put together a year earlier.
Robertson's digging was gaining him new fans, newfound if occasionally misguided respect from rivals like McCready, and a new confidence that, with his "perfect" memory and doggedness, he could do a better job of investigating than any traditional investigative reporter. Along with that fame—or what passed for it in football-obsessed Mississippi—came the customary death threats. One Twitter user cryptically tweeted a picture of his house; another suggested the world would be better off without him; and another likely hacked his social media accounts last fall. Part of the visceral response seemed to come from a completely natural place. College football fans, especially in the South, and especially when given anonymity online, can be nasty people. But another explanation for the hatred seemed to come from the way in which Robertson was stepping beyond both the boundaries of his usual job and the usual job of the college football fan site.
On Gene's Page, Robertson's work is straightforward. There's little editorializing. It's almost all about Mississippi State football and almost all of it is uncomplicated in its love for the team and the school. "I'm a positive guy," says Swindoll, Robertson's boss. "I just want to put stuff out there that fans like to read, and that they'll feel good about afterwards." With a few rare exceptions, Swindoll's attitude is the attitude of most fan sites. It's less about attacking the rival everyone roots against and more about puffing up the team all the fans have come to the site to root for. Robertson's digging, and his editorializing on The Boneyard, was the anomaly. It's also what gained the attention of someone whose entry into the story would lead to its most consequential event.
---
Before his resignation, Ole Miss made many attempts to pin the blame for its alleged misconduct on anyone but Hugh Freeze. One person they never named but certainly alluded to was Freeze's predecessor, Houston Nutt. The attempt to pin the blame on Nutt for the program's troubles reached an apex in the days after Ole Miss received its second Notice of Allegations, in February of this year. As Robertson noted, a number of in-state and national college football writers, all referencing the same vague "sources," made the same specific claim: that the NCAA's real focus was on acts committed before Freeze was hired at Ole Miss.

Those veiled allegations made Nutt upset enough to seek out the opinion of an attorney. He found the former general counsel for Wal-Mart, Thomas Mars. Mars then went looking to educate himself on the investigation and find out who knew the most, which lead him to a random internet commenter who told him, "The man you really need to talk to is Steve Robertson."
Robertson was wary at first. "This is such a litigious state I don't even like talking to my own lawyers," he says. But when Mars promised him an exclusive interview with Nutt for his book, Robertson agreed to take a look at the bounty the lawyer had already gathered.
While deciding what direction to take the case, Mars had requested and received pages and pages of phone records from Ole Miss. Robertson got to work and soon found a pattern, he says. In the hours after the NCAA's notice was made public, Freeze, members of his staff, and members of the Ole Miss administration made calls and texts to the numbers of well-known college football writers, writers who then told their followers and fans on Twitter what Ole Miss wanted them to believe: that the alleged infractions were Nutt's fault, not Freeze's. In his time at Ole Miss, Freeze had often gone out of his way to talk about "the narrative" of his team's success. Now, Robertson alleges, he was able to see in real-time how Freeze worked to create this narrative.
To Mars and Nutt, his client, the texts and tweets were evidence enough. The pair went to court. The allegation that Nutt was dirty, they claimed, was a violation of the severance agreement he had signed with the school, in which both parties promised not to disparage the other. "If it weren't for Steve," says Mars, "this lawsuit never would've been filed."
That wasn't all that Robertson found in the phone records, of course. There was also The Call to the escort, which reporting has since rendered as One of Many Calls. Yet Robertson insists that for anyone assuming he found glee in discovering the origin and ultimate destination of The Call, the opposite is true. Robertson says he slept only four hours a night for two weeks after finding the incriminating phone record. He talked it over with Dana, his wife. There was little about Freeze that he admired—"I wouldn't trust him to cut my grass"—but he felt for the coach's family. He thought about the fact that Freeze also had a wife and three kids, just like him. "This is life-changing stuff," says Robertson. "Ultimately I decided to leave it up to God." In place of Him, Mars acted instead.
First, Mars says, he called Ole Miss's attorney to warn him about The Call and the fact that it was Robertson who had helped him discover it. "He's obsessed," was the attorney's response when he heard Robertson's name, Mars says. Then, when that same attorney told Mars that he believed The Call was simply a misdial, Mars decided to take matters into his own hands. A few weeks after Robertson discovered it, the scoop got out, and with it went Freeze.
A month ago, behind the closed doors of an Embassy Suites conference room, Ole Miss, Freeze, Bjork, and the other players in the case finally got their version of what passes for a day in court. NCAA Kremlinologists say that the choice of words used by the regulator in the weeks prior to its hearing is a sure sign that Ole Miss is in deep, deep trouble. Specifically, the vague but ominous phrase "lack of institutional control," which suggests that the program could face something close to the death penalty given to Southern Methodist University 30 years ago, was used. In the interim, Alabama beat the Rebels by 63, Freeze wrote an open letter of apology to Ole Miss (first published on a fan site, of course), and Robertson's book debuted at #1 on the Mississippi best seller's list, ending a 12-week run for John Grisham's latest. A decision is expected in the case by late November; the spectacle has yet to reach its end.
This week, Ole Miss finally acknowledged that the spectacle had taken its toll. By admitting that "certain statements ... appear to have contributed to misleading reports about Coach Nutt," the program settled with Mars and his client, vindicated the complaints of the ex-coach, and proved that it never hurts to offer an apology—all, Nutt says, he wanted to begin with. The fact that Ole Miss settled, apologized, and is due for a severe punishment by the NCAA also reinforced something else. For the past few years, Robertson had been doing something few of the spectacle's participants had been doing themselves: telling the truth.
Caleb Hannan is a reporter in Denver who thinks the players should be paid.