Friday afternoon, Mercer beat Duke in the NCAA Tournament. More importantly, Bears guard Kevin Canevari was so excited about beating Duke that he started dancing, brilliantly. Some people asked what the fuck he was doing. Others in the know and/or on Black Twitter recognized it immediately: Canevari was dropping that Nae Nae.
The Nae Nae started to get pretty popular late last year, when Atlanta-based teen dance crew We Are Toonz shot this Vine:
Look at that Vine! That Vine is the shit. We think so, at least, and a lot of other people must think so, too, because the clip went viral. In late January Billboard labeled Nae Nae the newest dance craze and interviewed the guy in the Vine—a fellow by the name of CalLamar.
When asked about the inspiration behind the dance CalLamar explained, "It's really just based on a ratchet girl in the club dancing kind of funny and the best girl to describe it is Sheneneh from 'Martin.'"
G/O Media may get a commission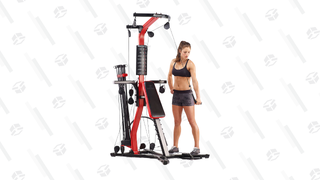 31% Off
Bowflex PR3000 Home Gym
Awesome. When We Are Toonz saw the dance blowing up, they did the American thing and tried to capitalize on it. They released a bunch of music videos, one of which is on my iTunes.
This brings us back to Mercer's Canevari. The 5'11" senior averages a scant 9.1 minutes per game, only contributed one assist in the win over Duke, but still won us over with his postgame celebration. Mercer University's allegedly located in Georgia, so maybe Canevari's Nae Nae was a nod to his school's state. But he probably just thinks it's dope, and saw other athletes doing it. John Wall and Paul George dropped that Nae Nae at this year's NBA dunk contest, and Dwight Howard appeared in a music video with We Are Toonz in January. A few Dayton players did it after upsetting Ohio State. Michigan State after the Rose Bowl. This is a thing.
By now, you are likely thinking about dropping that Nae Nae yourself. We'd advise against that. If you feel compelled, however, our own Sam Woolley's put together a nice, three-step graphic to show you how to do so.
Mercer tips off against Tennessee tonight at 6:10.