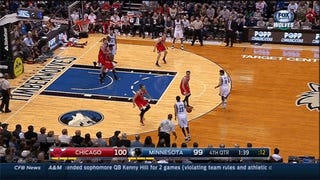 If there's one thing that should immediately earn an NBA player your respect, it is a willingness to do Sam Cassell's Big Balls Dance right in the face of a tyrannical, anti-balls league.
Timberwolves shooting guard Kevin Martin, who busted out a very low-key version of the dance on Saturday night, is the latest player to stand up for those who wish to work in a more ball-positive league. Like the freedom fighters who have come before him, Martin was rewarded with a hefty fine from the league office:
Do not let what happened to Kevin Martin deter you, other NBA players who want to world to know what big balls you have. Be brave, and brandish those big ol' balls whenever the opportunity to do so presents itself. It will cost you money, but you can't put a price tag on freedom.