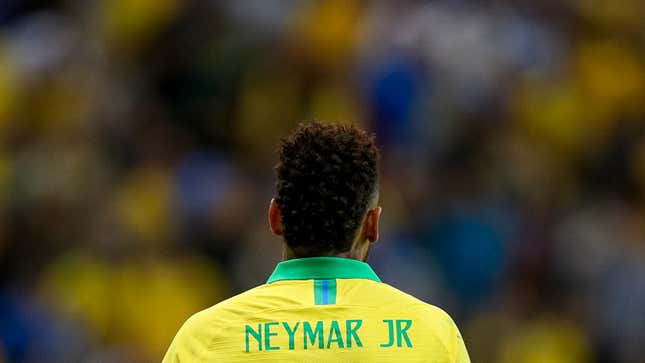 Last Saturday, news broke that a Brazilian woman had filed a police report in which she said soccer superstar Neymar raped her in a Paris hotel last month. Today, Neymar testified in court about a different but related criminal charge he faces because of the intimate photos of the alleged victim he posted on social media as part of a video meant to exonerate him. Between then and now, much more has come out in this twisting, convoluted, very public case.

Is Texas or Florida State a bigger national title contender? | Agree to Disagree
Neymar and his alleged victim—who has since identified herself as Najila Trindade, a 26-year-old model and student—agree on many of the facts. The pair first encountered each other on Instagram and then initiated in a text-based relationship over WhatsApp. They eventually decided to meet in person in Paris, where Neymar lives as a player for Paris Saint-Germain. Neymar paid for Trindade's flight from Brazil to France and set her up in a hotel once she arrived. They met each other in Trindade's hotel room on May 15 and had sex. The two met again the next day on May 16. After a falling out, Trindade returned to Brazil on May 17, on a flight Neymar also paid for.
The major point of contention, of course, is that Trindade says the May 15 sexual encounter was rape, while Neymar says it was consensual and that Trindade was trying to extort him over it.

---
The first, and arguably the most concerning, of the revelations to emerge in this case since last weekend came from the law firm that initially represented Trindade in the matter; Trindade has since found different representation. Brazilian outlet Globo acquired documents that revealed the firm's internal communications about the case, detailing specifically their thinking behind dropping Trindade as a client. What makes this so concerning is that leaking of these documents is an incredibly serious act and a grave violation of one of the law's fundamental principles, which is confidentiality between client and lawyer.

According to the documents, when Trindade first came to the firm seeking council, she originally described her interactions with Neymar as assault, not as rape. An excerpt from the document:
According to the allegations of [members of the law firm] Fernandes and Abreu Advogados, [Trindade] told them that "the relationship with Neymar Jr. was consensual, but that during the act he had become violent, attacking her, being that fact typical (aggression) for which he should be held liable civilly and criminally."
After compiling information on the subject, Trindade's lawyers and Neymar's representatives got together on May 29 to discuss the possibility of an out-of-court settlement. Neymar's representatives were against such a settlement, and so the parties left without an agreement.
Globo's documents show that the next time the firm heard about the matter was on May 31, after Trindade, without consulting the firm, filed a criminal complaint with the Sao Paulo police alleging that Neymar raped her. The firm's documents claim this was the first time they'd heard Trindade mention rape in addition to simple assault. The following description of the events is taken from the firm's internal documents:
Out of anger or vengeance, [Trindade] filed a complaint recorded on 05/31/2019 that described facts in disagreement with the reality manifested to her patrons, that is, she went to the police station reporting that she had been a victim of rape, when, in fact, we have been shown and ratified several times, [Trindade] would have been the victim of assault.
Because of the firm's stated belief that Trindade had changed her story from one that originally only involved assault to one of rape, and because of the firm's legal and ethical concerns about representing a case they believed could qualify as illegal defamation, the firm canceled their contract with Trindade and ceased representing her.
The documents Globo acquired also included text messages sent between Trindade and José Edgard Bueno, the lawyer who dealt directly with Trindade. One exchange between the two went as follows:
Trindade: "Why don't we play to the media soon to end this asshole's career right away? He beat me up and raped me"

Bueno: "Calm down. That's right after we file the complaint."

T: "I'm angry, Zé. I should have killed him when I had the chance"
This exchange would seem to go against the firm's claim that they had never heard Trindade describe her interaction with Neymar as rape before the filing of her complaint.
---
Bueno has given interviews in the media confirming that his firm dropped Trindade as a client out of ethical concerns. He has also denied any involvement in leaking the firm's internal documents to Globo.

In a letter Bueno sent to UOL, a news outlet, the lawyer refuted the claims of Neymar's father that Trindade, through Bueno's firm, tried to extort Neymar. Bueno said the incident Neymar's father has built his extortion allegation around was the May 29 settlement meeting.
Bueno claims that meeting was proposed by Neymar's representatives, not by Bueno's firm, and that meetings between lawyers of opposing parties discussing a possible settlement in no way amount to extortion. Because of Neymar's representatives' lack of openness to a settlement after they were the ones who initiated the meeting, Bueno described the meet-up as "a real trap with the objective of creating an alibi for his protege, to the detriment of the victim and his former patrons."
---
On Wednesday, Trindade came forward publicly for the first time and sat for a televised interview with SBT Brasil. In it, she gave her first full account of her interactions with Neymar since filing the complaint, reiterating her claim that Neymar raped her.

In the interview, Trindade explained that her intent when arriving to Paris was in fact to have sex with Neymar. "There was a sexual intent, it was a desire of mine," she told SBT, per a CNN translation of the interview. "I think that was clear to him." Here's how she described the events inside the hotel room, as translated by Marca English:
"But when we went to the hotel he was aggressive, a totally different person to the one I was speaking to through messages," Najila told SBT. "Then began some petting and everything was fine," before stating that everything up until that point had been consensual.

However, things quickly changed according to the model, who said that Neymar proceeded to hit her. "Then he began to beat me," she said. "The first ones, ok, I accepted, but then I began to feel pain and I said: 'Stop, it's hurting.'"

After the player apologised, she went on to say that neither of the two had brought protection, for which she told Neymar that they could not continue. "I asked him to stop and then he continued hitting me violently on the buttocks," she stated. "I turned around, everything happened so quickly, a matter of seconds. I insisted he stop but he was not speaking, only acting," Najila said.
Trindade said in the interview that the event has left her "traumatized." She went on to say, "I don't think that just because I was keen to be with him that he had the right to do that to me." She has also spoken with BuzzFeed and said, since the TV interviewed aired, she has received death threats on social media and has had her apartment broken into. Her new lawyer has relocated her to a hotel for the time being. In a text message to BuzzFeed, Trindade wrote:
It's easier to incriminate me as a bitch, in order to end the case. This world sucks. And you know what's going to happen? They're going to kill me and say that I committed suicide, that I was lying, and the life that goes on. Women will continue to be raped, raped, raped and treated as trash!!!!!
---
Also on Wednesday, Brazil's Record TV published video that allegedly depicts an interaction between Neymar and Trindade inside the Parisian hotel room. The video would appear to have been recorded on May 16, the day after Trindade says Neymar raped her.

The one-minute video shows a man, purportedly Neymar, entering a hotel room and laying down on the bed. The Police's "Every Breath You Take" is heard playing in the background. A woman, purportedly Trindade, follows the man onto the bed and lays on top of him. A slapping noise is heard, followed by the man saying "No, no, no." The two talk quietly for a few seconds, and then the woman gets up and off the bed.
As the man slowly sits up, the woman slaps the man twice and throws something at him. The man shields himself with his feet, stands up, and tries to move past the woman. The woman can be heard shouting, "But I'm going to hit you, you know why? Because you beat me up yesterday, you left me here alone, you slut!" Then the video cuts off.
Before the video came out, Bueno, Trindade's former lawyer, told Globo that Trindade possessed a video of her and Neymar from inside the hotel that he advised her against releasing to the public.
---
Today, Globo has released additional WhatsApp messages between Neymar and Trindade. These purport to reveal the conversation between the two that occurred after the ones Neymar publicized in his Instagram video on Sunday. Indeed, Trindade herself commented on Neymar's Instagram video and wrote that he had not provided the full exchange. Instagram has since taken down the video.
The text conversation Globo published starts on May 16, seemingly before the events depicted in the video above (translation via Marca English; Marca's editorial notes and Neymar's emojis in brackets):

Trindade (5:15 p.m.): "I'm going to go to sleep. You haven't come and have kept me waiting here. It's just to say that I'm not coming."

Neymar (5:15 p.m.): "I'm coming in 15 [minutes]. I was getting ready hahaha."

T (5:15 p.m.): "Are you getting married? No."

N (5:16 p.m.): "But I was having dinner."

N (5:16 p.m.): [Responding to "Are you getting married?"] "Thanks to God, no?"

T (5:16 p.m.): "My phone battery is getting low and I don't know where my charger is. I'm waiting, 203 [room number in hotel]"
Then there is an hour-long gap in time, presumably when the pair met in the hotel room as shown in the above video. It picks up after:
N (6:16 p.m.): "Aside from what you've done with me, I forgive you. It's fine now. Anything you need, send me a message."

T (6:24 p.m.): "I wanted to leave. That's it."

N (6:24 p.m.): "Ok."
At this point, Trindade sends Neymar a photo of her butt, which bears the visible damage of Neymar's alleged spanks. Neymar replies with a sad face emoji and a shrugging emoji.
T (6:26 p.m.): "That's why I was wearing shorts. Do you remember everything about yesterday?"

N (6:26 p.m.): "Sure."

T (6:27 p.m.): "You can block me. I'm going to lose it, I'm going to end this shit that I'm feeling. I don't know if I explained myself."

N (6:27 p.m.): "Relax, get on with your life and everything is fine."

T (6:30 p.m.): "If you get the flight in the morning, let me know please."

N (6:37 p.m.): "Okay, I will."

T (6:40 p.m.): "The guy I know today isn't the same as yesterday. It's today's Neymar that I fell in love with."

N (6:41 p.m.): "You don't know me well, I'm normal."

T (6:41 p.m.): "We all are."

N (6:41 p.m.): "[Prayer hands emoji]"

N (6:42 p.m.): "Yesterday went quickly and we didn't have time to speak and now people have changed their minds."

T (6:44 p.m.): "Maybe. I was excited to meet you, yesterday went so quickly. That's why I only saw these bruises in the morning, we barely spoke yesterday, you were agitated and today you're calmer. Yesterday I was calm, and today I'm the one who is agitated."

T (6:44 p.m.): "We lost it. It's a shame that it went badly."

N (6:45 p.m.): "But you were also to blame for the bruises, hahaha, you were asking for more [shrugging emoji]."

N (6:45 p.m.): [Responding to "we lost it"] "Yes, unfortunately."

N (6:45 p.m.): [Responding to "it's a shame that it went badly"] "Not at all, people meet and it was legal. You can see that you're a methodical person. Unfortunately, what happened today [Trindade hitting Neymar] ruined it a bit. But it was a pleasure to meet you."

T (6:46 p.m.): [Responding to "you were also to blame for the bruises"] "Are you crazy? I asked you to stop, and you even said sorry to me, but now that's another thing for the therapy sessions."

N (6:46 p.m.): "[Two thinking face emojis]"

T (6:47 p.m.): "It stays that way. You're still Neymar and I'm on my own."

T (9:24 p.m.): "If you've sent that photo to someone, please ask for it to be deleted, because I don't want anything involving my name with yours."

N (9:27 p.m.): "I never would."

T (9:42 p.m.): "Close to what you have done, it would be nothing. Although I have only changed today (and paid for the madness, because I hadn't realised what a scoundrel you are before), you know very well what you did and how you treated me. In fact, you abused me! Even though this will never be known and we'll never talk to each other again, deep down you know what happened. God is fair and he doesn't have any bribes. I hope you never feel half the anguish I've felt on this journey. I think a GP ["garota de programa," Portuguese slang for "hooker"] is treated with more empathy. What scares me the most is finding out that it was all good and I'm totally crazy. It shows that your brain only works on the pitch and your heart doesn't work anywhere. But, in the end, it is what it is, it's not important anymore. I'm going to continue and take the strongest remedy possible to forget the day that I was here where you treated me like this. Sleep well and thank you. At least I know who the real Neymar Jr. is."
The case Neymar went to court for today is an inquiry into whether he violated Brazil's revenge porn statute by posting his WhatsApp communications, which included lightly censored nude photos of Trindade, on social media. He has denied committing that crime and the accusation of rape.