Before the season, the NFC East was tapped as one of the most wide-open, unpredictable divisions. That assessment may still hold true—with the possible exception of the Cowboys, the NFC East is a Superfund site, its four constituents 1-7 outside the division.
The Giants, pegged as co-favorites, might be the most putrid of a mephitic bunch. A remarkable example of what happens when a team that wasn't very good to begin with fails to get better in any measurable way, even after an 0-2 start they had their backers. They were silenced by a 38-0 trouncing by the 0-2 Panthers, the worst loss of the Tom Coughlin era and the Giants' worst shutout loss since 1973.
"That is not by any means, New York Giants football," said center David Baas. Except it sort of is these days. A team built around its defensive ends and the passing game can't do either of those things when the secondary is a wreck, the linebackers are corpses, and the offensive line has columnists sputtering out mixed metaphors. (Can a line be both a "sieve" and a "speed bump?" If it's physically possible, this is it.)
Eli Manning was sacked seven times on Sunday, for 11 total on the year. He was sacked 19 times total last season. "There is bad football out there being played," Antrel Rolle said, the Giants putridity encompassing even postgame grammar. These are not underachievers. There is no turnaround lurking. This is a terrible football team that shouldn't be favored in any of its remaining games, perhaps not even against its divisional rivals. With a loaded draft on the horizon, maybe it's time for a tanked season, a new coach, and a full rebuild.
The Redskins are supposed to be in the rebuilding process, but you can't rebuild with just one guy. Setting aside Robert Griffin III's health (and the wisdom of betting a franchise on a player whose style lends itself to health issues), Washington has failed to do anything to address one of the worst defenses in the league, which has somehow regressed even further—the Redskins have now allowed the most yards through three games in NFL history.
G/O Media may get a commission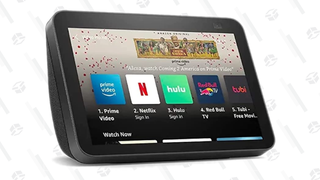 They tackle like their Stickum was replaced with WD-40. They manage to take penalties and turn the ball over at precisely the wrong times. And though their 27-20 loss to Detroit could have ended very differently if not for one overturned catch ("We didn't get blown out by the Lions! A moral victory!"), a team that was clearing a space on its mantel for another Lombardi Trophy is 0-3, the franchise's worst start since the year Marty Schottenheimer was in charge.
Help is not forthcoming. Washington punted its 2012 draft to take Griffin, but also its first-rounders in 2013 and 2014. By the time impact players start to arrive, it'll be contract time for RG3, and the window for a franchise quarterback at a bargain price will slam shut.
The Eagles are rebuilding from the ground up, which makes their 1-2 start easier to stomach. They weren't expected to do much this year, with Chip Kelly getting the lay of the land and Michael Vick, on a one-year deal, not much more than a placeholder. But 1-2 stings worse after a rip-roaring season opening win against the Redskins, who everyone thought would be a playoff team. (Whoops.)
Bad losses to the Chargers and Chiefs followed, and beyond even the results were the warning signs about the uptempo offense that was supposed to revolutionize the NFL. It's been largely effective, but it's opened up the defense to exhaustion, and the offense to turnovers and injuries. What happens next year, once opposing teams have an entire season to adapt, and the Eagles likely start running it with a brand-new quarterback?
Which leaves the Cowboys, who dominated the Rams yesterday and moved to 2-1. It's impossible to know what to make of them just yet, only that they are the prohibitive favorites in a division where 8-8 could very well be good enough. It's the one downside of the NFC East, overcovered and with the most unbearable fans in football, receiving a season-long mudhole stomping: Cowboys fans will be exempt until the inevitable first-round loss. It's a fair trade-off.