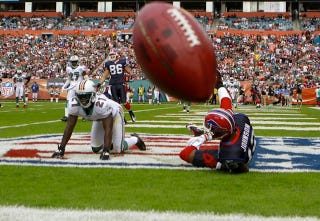 Because no one reads the newspaper, and SportsCenter's anchors are too perky for this early in the morning, Deadspin combs the best of the broadsheets and internets to bring you everything you need to know to start your day.
•Equal parts luck, preparation, and a disregard for prolate spheroids hurtling toward your face all went into snapping that top photo. Now all it needs is a British fellow with a wig and cigar. Oh wait, there he is! For Stevie Johnson, it could have been worse. We could have led with this, courtesy Mike G:

•David Beckham wants to be loaned out to a European side again, but would only play in the Premier League with Man U. Which works out, because he probably belongs on a Championship or League One team these days.
•It was close, but the Patriots eventually contained Matt Flynn, outlasting the Packers and coming oh so close to clinching the AFC East. The highlight was a 71-yard kickoff return from guard Dan Connolly, who at 6-4, 313 lbs., will somehow end up being called scrappy this morning.

•The Capitals broke their 8-game losing streak with a 3-2 win over Ottawa, which comes as a disappointment to those of us hoping to see a coach fired on 24/7.
•Tebow Time! If only he could play defense and/or wasn't stuck on the Broncos.
•Hoopism has an NBA version of that famous parity chart, using all-time records. I don't have to tell you the Bobcats lead the all-time series against the Lakers.
•••••
Morning. Hope you're ready for today.