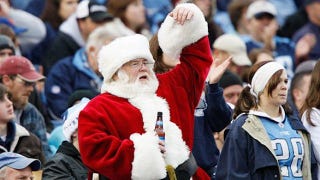 We received an email from a reader looking to vent. They purchased a jersey from NFLShop.com on Dec. 6 as an intended present, since the site promised—in large, bolded text—that it would arrive before Christmas. It still hasn't shown up. If that was an anomaly, it'd be understandable, even excusable. But our reader went looking for other reviews, and discovered hundreds of angry fans who hadn't received their packages in time for Christmas. The NFL Shop killed Santa.
Go ahead, read some recent reviews of NFLShop.com on ConsumerAffairs.com, SiteJabber, and most hilariously, on the NFL Shop's own Facebook page. They all sound pretty much the same. A sampling:
I made a christmas order on 12/6/13 and NEVER received any feedback on expected shipping date. After wasting a LOT of time on the phone with them 12 (!) days later and trying to escalate the problem they finally said that some of the items were not available and were holding up the shipping!
I placed an order on December 19 where your website stated there was 2 day shipping in time for Xmas. My order did NOT arrive by Xmas. In fact, I am still waiting it's arrival....15 days later!! I called 4 days ago to see what was going on with my order to be told my order was never fulfilled by the warehouse! The operator ensured me my order would be sent out the next business day and overnighted for free. Here I am...still no order.
I placed my order for two jerseys that my children asked for from Santa on Dec 14th. My credit card was charged immediately, even though the items were nowhere near ready to be shipped. The items showed as in stock (as they still do today 12/24) - however the items were never shipped to me. After holding for hours, and speaking to customer service representatives feeding me false promises that they would get things taken care of... I have not received my package.
I ordered a Jamaal Charles jersey weeks before christmas (w996997431) and was promised it would be delivered for the holiday. I then email as it gets closer and am told it will still make it on time. Then low and behold right before the holiday my order is cancelled on your end for no reason other than you being unable to fill it on time.
I ordered a Xmas present jersey on the 9th of December, plenty of time to get here by Xmas (especially with the "ship next business day promise on the websit")and what happens is I am on the phone 3 times only to discover today...11 days later that my order will not actually ship until the 12/30.
Order an Alshon Jeffery jersey for my son last week 12/17 to arrive in time for Christmas. Confirmation email said order would ship in 3 business days. Called customer service twice to check on order. Each time they told me they were "upgrading" my shipping so my order would arrive on time. After hearing that again today, I asked to speak with a supervisor. 40 minutes of "on-hold" and 2 supervisors later, I was finally told the jersey wasn't made yet, didn't know exactly when it would be made and they were sorry but nothing that they could do.
So, rough times at the NFL Shop (especially for the poor customer service rep frantically replying to every Facebook complaint). But rougher times for people who bought Christmas gifts that will end up as Presidents' Day gifts. We've asked NFLShop.com for comment and will update if we hear back.
Did you get hosed by the NFL Shop this Christmas? Leave your tale of woe in the comments below.