The Medical Board of California is trying to revoke David Chao's license after he lost a malpractice suit this past summer, and, after years of evidence that Chao is regularly operates well outside the bounds of best medical practices, the loss of his license might finally be enough to get him removed as the Chargers' team doctor. During a postseason in which the wisdom of team doctors became a central part of the discussion about player safety, NFLPA head DeMaurice Smith released a statement on David Chao that was appropriately indignant: "The players of the National Football League deserve to have a doctor that's not been found liable of malpractice. And that's within the last year, by the way."
Before that? From a 2011 post on the illustrious Mr. Chao:
The DEA says Dr. David Chao wrote himself illegal prescriptions more than a hundred times between 2008 and 2010. The California state medical board says he's an alcoholic and needs psychiatric help. Four former football players have sued Chao for malpractice, claiming he ended or shortened their careers.

The San Diego Chargers, meanwhile, are bringing Chao back for his 14th season as the team's head physician.
Roger Goodell was, as is his habit, vague on the subject of Chao's removal during a press conference today, saying, "We'll allow the process to unfold. I'm confident our doctors make the best possible decisions for the players, and we're going to stand behind that."
Chao is a prominent orthopedic surgeon, but by the summer of 2011, twenty people had sued him for malpractice since he became Chargers team doctor in 1998, and this verdict, at long last, may get him removed from the sidelines.
G/O Media may get a commission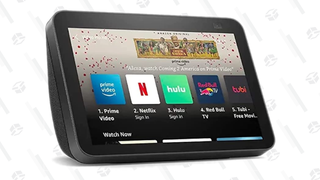 DeMaurice Smith used Chao as an example of why the NFL needs a "system to verify the credentials of all team medical personnel," according to the Associated Press. If implemented, that system could threaten millions of dollars in sponsorships from medical offices that like to call themselves "the official team doctors" of their local franchises.
Previously: The Medical Board Says David Chao Is A Drunk. Former Patients Say He's A Quack. Why Is He An NFL Team Doctor?