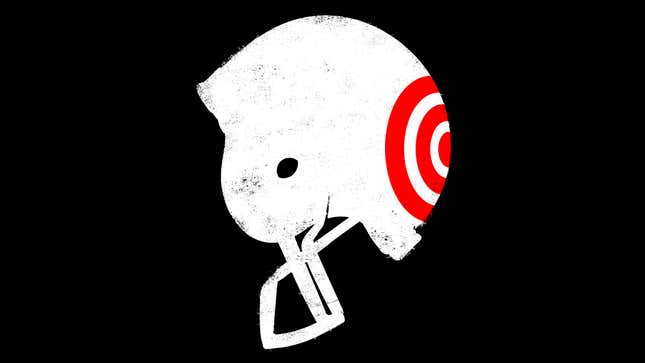 Even after it officially approved a new helmet rule for the 2018 season, the NFL quietly made a significant change to the wording of a related rule that addresses the applicable penalty. The change was an attempt to provide clarity by distinguishing prohibited hits to the helmet from incidental contact. But there's still a whole lot of confusion about how the rule is going to be enforced, which means there's still likely going to be a flurry of flags thrown early in the year as players, coaches, and officials adjust to a change that has the potential to profoundly affect the way the game is played.
The main issue at hand is whether the penalty will apply to linemen, who hit and block each other helmet-to-helmet on just about every play. And, in a total reverse from what we have come to expect from the NFL, the confusion comes from the relative simplicity of the rule.
In the rulebook, at section 12-2-8, the wording of the helmet rule is exactly the same as the broadly drawn language that was approved by the owners during their May meeting: "It is a foul if a player lowers his head to initiate and make contact with his helmet against an opponent."
However, under the definition of unnecessary roughness—the applicable penalty for illegal use of the helmet, at 12-2-6(i)—a major change was made to what previously had been approved. Here, including the strikethroughs of words from last year's rule book that had been excised, is what was approved in May, according to what league spokesman Brian McCarthy provided to Deadspin on May 29:

G/O Media may get a commission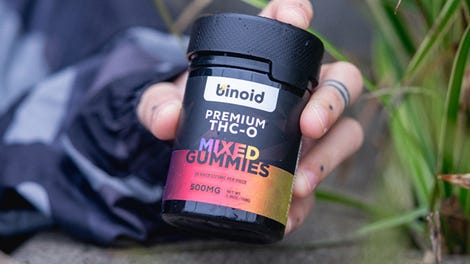 25% Off + Free Shipping
Binoid THC-O Gummies
Yet, as Pro Football Talk's Mike Florio discovered, here is what was actually published in the 2018 rule book, released on June 28, with the red text indicating the new language:

That's a pretty big note! Remember, just after the rules were changed in May, NFL senior vice president for officiating Al Riveron had told reporters the following:

Yet the note that was added to 12-2-6(i) seems to make an allowance for incidental contact. But when was it added? NFL spokesman Michael Signora told me the additional language that now appears in the rule book was part of "a customary editing practice to ensure all aspects of the rule book are consistent," and that those edits were made by "NFL Officiating and Football Operations staff in consultation with the Competition Committee."
Basically, the league realized it needed to codify an exception for incidental contact during blocks and tackles, because otherwise there'd be flags on every single play. But how will those hits be policed?

Jenny Vrentas of The MMQB reported last week that the league has distributed six videos to every team that feature coaches explaining proper and improper techniques based on the new rule. The idea had been suggested by Falcons head coach Dan Quinn, who selected the demonstration plays and did the voiceover for the defensive linemen's video. But there's still some uncertainty baked into all this. Here's Vrentas (emphasis mine):
But Quinn says his focus in creating the defensive line teach tape involved plays in which linemen had time and space to make a decision leading up to contact, such as DE vs. OT pass rush and hits on the quarterback.

[...]

"I couldn't see where it would be very likely called for the inside guys," Quinn says. "Not saying it couldn't, but contact happens so quickly when two guys are in a stance across from one another, that it would be difficult. I chose examples where I thought players had a choice to make when they are entering into contact. I thought that would be a really good place to start."
As Florio noted, "Shouldn't Quinn know for sure at this point whether a foul will or won't be called ... ?" Especially since the chair of the competition committee happens to be Rich McKay, who presumably has an office down the hall for his full-time gig as the Falcons' president?
Vrentas talked to McKay, too. McKay told her the league would spend the season studying the rule's impact on interior line play, but he also referenced the wording of 12-2-8 by saying, "Very rarely do you write a rule with some element of intent in the language, but that was purposeful." But, as Florio also pointed out, the rule does not mention intent; instead, it merely says "[i]t is a foul if a player lowers his head to initiate and make contact with his helmet against an opponent." That kind of thing happens a lot on the football field! And this language replaced the 2013 crown-of-the-helmet rule, which, if messy, was at least clear on this point:

So will linemen be exempted? McKay explained the difference to Vrentas by saying, "In space, where there is distance between players, it's easier to call—once you see that posture and it is to initiate the blow. You're not doing that to initiate contact in much closer quarters." That seems to be what the note tacked on to 12-2-6(i) is addressing by carving out an exception for "incidental contact." But then there's what Riveron told NBC's Peter King (emphasis mine): "If a player lowers his head to initiate contact with an opponent, and you make contact, it's a foul. All players are included, from offensive linemen to safeties," Riveron said. And 'round and 'round we go.
Riveron went on to explain to King that a quarterback sneak would not be flagged because the quarterback's intent is not to initiate contact with the helmet, but that a pulling guard lowering his head to drive into a potential tackler would be penalized because the intent is to make contact. "It's not going to be easy," Riveron told King. "It's a major change in our rules. We have to make sure the helmet is used only as a protective measure."
Which brings us right back to where we were last month, with officials having a split-second to make these determinations based on rules that now allow for incidental contact, except when they don't. Get ready for a flag-filled first few weeks, everyone.