Your morning roundup for Feb. 13, a day in which a Supreme Court justice prepares to celebrate five years of playing mum at work.
• There was some fallout from Friday night's Islanders/Penguins melee. On the Strong Island side: a nine-game suspension for elbow-to-head action, a four-game suspension for ambushing and a $100,000 team fine for what NHL VP Colin Campbell deemed "failure to control their players." For Pittsburgh, a 10-game suspension for leaving the bench and a minor bus accident for heading to Manhattan to face the Rangers today. [New York Daily News]
• Villanova's Maalik Wayns hit a three-pointer that would have tied last night's game against Big East leading Pittsburgh at 57 if he hadn't shot it after the final buzzer. Chippy game. A punch. Three technicals. Fifty free throws. Said Pitt coach Jamie Dixon, "Our Philly guys played like Philly guys. That's why I'll be staying in Philly and recruiting [Sunday]." [Post Gazette]
• And then there were no undefeated teams: The Wisconsin Badgers rallied from a 15-point second-half deficit to upset No. 1 Ohio State yesterday. Final score: 71-67. [Madison.com]
• Urban Meyer doesn't miss that "garbage" associated with coaching college football. And if he'd had known about all those violations and whatnot, he may never have gotten into coaching in the first place. [Orlando Sentinel]
G/O Media may get a commission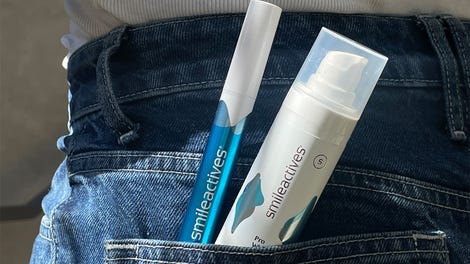 58% off
Whitening Powerhouse Pen & Gel Duo
• At 9 p.m., a Washington Post headline read, "Brandon Banks wants to gain 11 pounds." This is unfortunate, because ESPN's headline read, "Brandon Banks stabbed outside club." [ESPN]
• Rex Ryan guarantees the Jets will win the Super Bowl next year. Rex Ryan probably hasn't heard about the potential lockout. [Star-Ledger]
• The Heat visit the Celtics at 1 p.m. [Miami Herald]
• Update on Tiger Woods having a good time in Dubai: After the wind-laden third round of the Desert Classic, he stood a shot behind leader Rory McIlroy for his first title in more than a year. In the fourth round, he failed. [USA Today]
• Update on the Cavs one-game winning streak: Some believe Cleveland beat the Clippers because of witchcraft. They include the witch who cast a victory spell on the team, and Action News 19 reporter Jason Handman, who dressed up in a "really cool outfit" to watch sorcery in person. [YouTube]
• Update on Lebron James snapping at a fan in Detroit on Friday night. A front-row heckler apparently targeted James's mother Gloria with his words. Words that include, "Is your mom going to Boston for Valentine's Day?" Which, of course, is where Delonte West now holds a Celtics roster spot. [MyFoxNY]
• Even though Sean Avery of the NY Rangers has openly supported welcoming gay players into the NHL, the folks over at Puck Buddies — "Are we too gay for Deadspin? Your gay readers would say no!" — felt New York Fashion Week was the proper setting to cross-check and board him. [Puck Buddies]
• And now, from the "Hickey's biased coverage" files ... Sixers win by 20 [Delaware County Daily Times]. FC Barcelona didn't lose, but their record 16-game winning streak ended with a surprising 1-1 draw with Sporting de Gijon. [Times of India]
****
It may already be morning, but keep on dreaming, 'cause when you stop dreaming, it's time to die.