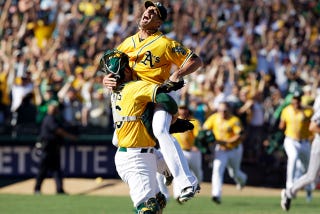 Any good championship run needs a catchy theme song. Unfortunately, it often derives from some iteration of "Don't Stop Believin'," either the original form (see: White Sox, Chicago, 2005) or some customized version, like the San Francisco Giants adopted in 2010.
But this year's Oakland As, a team that stunned pretty much the entire baseball world yesterday by winning the American League West title, has its own anthem, an original piece penned and performed by singer/songwriter Scott McCaughey.
It's called "They Are The Oakland A's," naturally. Take a listen:
There's always been another city by the bay. As a Bay Area resident, I find this to be factually accurate. Brandon Moss as a stand-in for Jimmie Foxx? Not so much.