There is no excuse for anyone to miss a single serve of tennis or a single Sasha Vujacic hair toss at the U.S. Open this year, unless he or she is employed, disinterested, or has basic life responsibilities that might keep one from watching every hour of a two-week long sporting event. But! Just in case you're going to watch every hour anyway, or just in case you only want to watch when there is a 50 percent chance you'll see Rafa Nadal shirtless (no comment), or just in case you want to track every opportunity to see Serena Williams threaten a line judge and/or wear something outrageous, Deadspin is here for you. Here's your 2011 viewing guide, with special consideration for those stuck in a swivel chair for the majority of the days.
On The Television
The bulk of the Open will air on ESPN and the Tennis Channel, while CBS takes the semifinals and finals (see the complete schedule here). If you have a basic cable package, it's unlikely that Tennis Channel is an option, as it is generally bundled in special "sports packages" for an extra cost. Time Warner, for example, includes it in its "Sports Pass," along with the Big Ten Network and a lot of other things no one needs due to the advent of The Internet. But if you've got it, good for you.
If not, the little engine that has proven capable of monopolizing tennis's grand slam broadcasts has you covered. They'll show "100 hours in high definition on ESPN2 HD, [and] 420 hours on ESPN3.com." Anyone who suffered through NBC's frustrating handling of the Wimbledon final earlier this summer will be happy to hear that ESPN and CBS won't have to blackout any live, late-round matches in Queens.
G/O Media may get a commission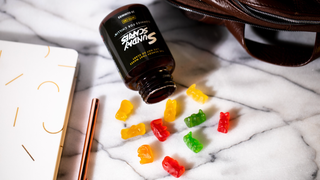 10mg CBD Gummies (22-Count)
The real winners of the television game, though, are DirecTV customers. The company has paired with ESPN to produce what they're calling "ESPN Interactive TV," which is only really interactive in the sense that instead of being told which screen to watch, you can choose which screen to watch from six different courts. (Alternatively, one could watch all six courts at once and then die of over-stimulation. It's up to you.)
The broadcast team this year will feature the Brothers McEnroe in the booth, along with Cliff Drysdale, Chris Fowler, Dick Enberg (in his last hurrah) and newcomer Chris Evert, who was mostly competent during her practice run at Wimbledon. Tennis, after all, is one of those rare sports in which former players actually make for some of the best commentators—probably because a pro tennis player's internal monologue is actually something like a dialogue, in which he or she addresses the opponent's game and plans their way through it. John McEnroe, for all of his incessant bitching and for his ongoing American Tennis Crusade, is great at his job. As long as he and Patrick don't kill each other, the announcing crew should do just fine.
On The Internet
Starting at 1 p.m. on each of the first five days of play, ESPN3.com will have coverage of 5-6 courts at a time. The site will also simulcast the ESPN2 feed—so if you have a cable provider at home, all you need is your log-in information and the ability to click out of windows quickly while you're stuck at work. When it's up and functioning properly, ESPN3 is an even better deal than the TV station. You can watch Andy Murray dig his own grave in one screen, and Mardy Fish attempt to be loveable in another. What fun. It's also free for college students and military personnel and to those "who receive their high-speed Internet connection or video subscription from an affiliated service provider." (If you really need the hint, then yes, it is also available to those people who might know other people who receive their high-speed Internet connection or video subscription from an affiliated service provider. Everyone wins!)
The USOpen.org site will also offer live streams of every televised match in the tournament. Like the DirecTV deal, you can stream six matches simultaneously, but with this deal you can also tweet, send emails, and check your fantasy results, all on the same screen. American tennis: so hip right now (it's also generally impotent, but that's another story)!
If you can't access ESPN3 or USOpen.org from work, or if the ESPN3 server is down (which still happens regularly), we recommend the seemingly immortal pirate site, AtdheNet.TV. It's dependable, low on ads, and—best of all—totally illegal.
On The Things You Hold In Your Hand, Which One Might Call Handhelds
Did you know that you can watch live television on your two-by-four inch telephone screen? Perhaps you knew this. It was news to me. ESPN has an app for iPhones and Androids called, appropriately, WatchESPN. Like ESPN3, it requires you to sign in with your cable service provider (you'll need access to a subscription with Time Warner Cable, Bright House Networks or Verizon FiOS TV), and you also have to have an ESPN site account to register. In a wireless network, the quality is great—but the app is known to have a clunky set-up process and some malfunctions. If it fails, Spring and AT&T customers can also register and watch on ESPN Mobile TV.
The official U.S. Open app is great for scores, schedules, and radio broadcasts, but it doesn't carry any live video. It's now available for both iPhones and Androids. The USTA is also marketing a mobile fan shop, which allows anyone on the grounds to purchase T-shirts and hats from their seats and pick them up at the end of the day. With time, we'll be able to buy food and drink with our opposable thumbs, too. America!