The Edmonton Oilers are utter trash this year, despite the once-in-a-lifetime superstar they tanked their way into getting, so it's hard to even chart exactly how bad they would be if they had to rely entirely on GM Peter Chiarelli's deal-making ingenuity. But a look across the continent over in New Jersey offers a bit of a glimpse into how much the Oilers have missed out on.
That's a goal from Patrick Maroon, assisted on by Taylor Hall. The Devils, currently in playoff position after a lengthy run of atrocious seasons, took both those guys from Chiarelli's Oilers in trades that—especially in Hall's case—keep looking dumber by the minute.

In fairness, Maroon was only dealt last month, and that goal was his first in four games for New Jersey. But it was still his fourth point as a Devil, which is as many as he had in his final 12 appearances for Edmonton, and he's the kind of secondary offensive player who can get hot and make a big difference in a playoff series. Chiarelli swapped Maroon for a prospect and a draft pick, so you can't judge the move too harshly yet, but right now, the Oilers are entirely unwatchable while the Devils are exciting and improving.
In a vacuum, that's not all that bad, but Maroon's strong debut looks infinitely worse as a compliment to Chiarelli's 2016 offseason trade of Taylor Hall. Goddamn, the Taylor Hall Trade. Connor McDavid must have nightmares about what happened there. The decision from Edmonton to ship off a 20-goal scorer with plenty of potential for a solid yet unspectacular defenseman like Adam Larsson felt like a calculated risk at the time, but now, it appears more and more like the equal to Chiarelli's trade of Tyler Seguin to Dallas when the GM ran the Boston Bruins. Hall is a legitimate dark-horse MVP candidate this year, riding an active 26-game point streak while he boasts as many goals (30) in fewer games than even Connor McDavid. Somehow, Chiarelli remains employed.
G/O Media may get a commission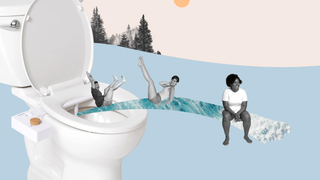 17% off
Tushy 3.0 Warm Water Spa Bidet Attachment
For a team to have two incredible young studs like McDavid and Leon Draisaitl and not even make a stab at competitiveness is inexcusable, and it's all Chiarelli's fault. The Oilers GM is running a front office based on backwards analysis and nepotism, and any team that can get him on the phone seems to be able to take him to the cleaners. An Edmonton season that was supposed to be a step up from a promising playoff appearance in 2017 has instead devolved into an epic disappointment that has dudes heckling McDavid in the streets. But he's far from the one to blame. He's the one getting screwed the most.