There is a quiet war being waged between newly arrived Olympic athletes and members of the games support staff. At stake? The precious few pillows extant in Sochi.
On Sunday, Luiza Baybakova, a member of the catering crew, posted this to Instagram. It is a notice tacked up in a building housing Olympic volunteers:
"ATTENTION, DEAR COLLEAGUES!

Due to an extreme shortage of pillows for athletes who unexpectedly arrived to Olympic Village in the mountains, there will be a transfer of pillows from all apartments to the storehouse on 2 February 2014. Please be understanding. We have to help the athletes out of this bind."
G/O Media may get a commission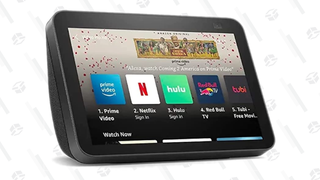 The fact that any athletes' arrivals were "unexpected" is troublesome. But this seems to be where we are: volunteers being forced to give up their pillows so that the athletes can have something resembling a good night's rest.
(Luiza's Instagram hashtags are the best, by the way. On the above post she tagged her photo with: #Sochi2014 #Olympics #OlympicCamp #OlympicVillage #ManyAthletes #PillowForEveryone #TakingPillows #CantSleepWithNoPillow.
On a later post, her tags included: #TheyreTakingOurPillows #OlympicPillow #WhereDoAthletesComeFrom #PlzDontTake.)
Sochi Is Running Out of Pillows [Vocativ]