There's at least one woman out there who couldn't care less about the Manning/Brady hype. She has eyes only for Jake Delhomme, and those eyes are very, very crazy.
Meet Deborah Voit, a woman who was recently arrested and charged with stalking Carolina Panthers quarterback Jake Delhomme. If you're wondering why she's so smitten wake Jake Delhomme, I don't think there's a reason; the woman isn't real picky about who she stalks. She's been convicted of stalking twice, and has been jailed eleven times in the past year. Seems to me like she has more in common with Chris Henry. I'm kind of surprised that their paths haven't crossed.
The woman recently got past security at the Panthers practice facility, and followed Delhomme onto the field, and handed John Fox a letter to give to Delhomme. She's called him repeatedly, visited him in his hotel room, and even called his parents.
WCNC.com has copies of an e-mail she sent to the Panthers and a hand-written letter she composed for Delhomme. Here's a snippet from the letter:

But I also know that you are the most wonderful, loving awesome man that I have ever met and I love you with all my heart. You are the best one ever for me to share my life with and I promise you that I am the best one and the right one for you to share your life with and I will be everything you could ask for and more as your companion, lover, best friend, helpmate + confidant as your wife and I will be the love of your life and make life so wonderful for you + you'll never regret it ever."
G/O Media may get a commission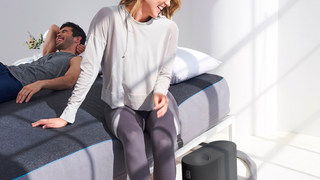 Eight Sleep Pod Cover

Frightening. Who would want to be with a woman who writes run-on sentences like that?
Mother of woman accused of stalking Jake Delhomme speaks out [WCNC.com]
Hand written letter to Jake Delhomme (.pdf) [WCNC.com]
Read e-mail sent to Panthers (.pdf) [WCNC.com]