The 49ers lost to the Carson Palmer-less Cardinals by 12 points tonight in front of about 50 or 60 fans. Blaine Gabbert laid an egg and threw for 162 yards, along with a pair of picks and a pair of touchdowns. The most noteworthy thing the team did on the field was knock coconuts. The best highlight of the night, however, was recently retired 49ers tackle Anthony Davis doing some very good tweets, and roasting Gabbert with the following poll.

He elaborated briefly (in a now-deleted tweet) why he stopped playing after some followers accused him of selling the team out by retiring.
G/O Media may get a commission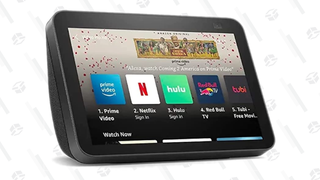 If the answer to the 49ers QB problem isn't Kaepernick, maybe it's Anthony Davis?
Either way, don't bring that weak shit.
Seems like AD is enjoying his retirement, as well he should.