I remember the first time I played an NCAA tournament pool. I was 8. I picked UCLA to win it all, probably because even then I was a huge dork and knew they had won a lot of games, historically. Or maybe I liked their colors.

I also remember celebrating UCLA's exit from the NCAA tournament that year in my parents' basement with a friend. The Bruins lost to Penn State in the first round. I was happy because I root for Penn State, then I remembered I'd picked UCLA. Oops.
I'm not very good at picking an NCAA tournament bracket, but I still do it every year. I like filling out a bracket and pretending I'm a master of college hoops knowledge when I successfully pick an 8/9 game. I like gloating when I win and ignoring my parents' gloating when they beat me. Filling out a stupid bracket creates fond memories almost every year.

All this is to say that brackets are good—for basketball. And only for basketball, and other competitions that use a single-elimination format.
A 64-team bracket is actually an imprecise way to decide which basketball team you believe to be the best. There is a full season to decide which one you think is best. But the NCAA wants to crown a champion, and the best basketball teams can't all play each other at once. A bracket is the best way to whittle them down to one.
G/O Media may get a commission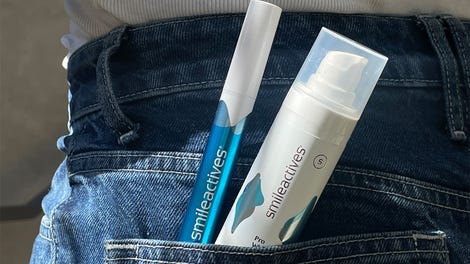 58% off
Whitening Powerhouse Pen & Gel Duo
Brackets for other things are silly radio stunts. When I was 16, I called into a Y-100, a since long-dead Philadelphia radio station that was holding a bracket of bands. If I remember correctly, I voted for Rage Against the Machine over Stone Temple Pilots. I'm not even sure I'm right. But deciding the best alt-rock band of the late 1990s doesn't require a 64-band bracket.
You can talk about your favorite 64 bands, and rank them, if you want to. But there is no need to eliminate them, halving the field each time. The Y-100 contest was a silly stunt to get people to listen. And since then, brackets have escaped the radio and spread like a virus to every corner of the internet.
This year, there's a meme bracket. A Kansas City barbecue bracket. An all-time NASCAR driver bracket. A bracket of Kanye West songs. A bracket to determine John Calipari's best player. There's even a bracket of @dril tweets. One site is doing a bracket of hot-ugly guys. Shouldn't it be ugly-hot guys? Whatever.
I assume these brackets are popular, and everyone's chasing traffic. But they've become ubiquitous without anyone ever stopping to consider whether they're actually useful content. Just because the NCAA tournament has a bracket that people like doesn't mean brackets are themselves valuable! You could create much better #content by simply writing about your favorite memes, barbecue, NASCAR drivers, Kanye songs, John Calipari players, @dril tweets and hot-ugly guys.
That these brackets are generally chosen by half-assed online voting systems make them even weirder. Even if you're doing detailed write-ups for the remaining songs/meat/memes/whatever for every round of your stupid bracket—and virtually none of the brackets do this—you're letting internet voting determine what you write about.
Take The Ringer's John Calipari player bracket. It opens with an interesting look at how many Kentucky players are in the NBA and how they all seem to believe that their particular year in Lexington was the best team Calipari's ever had. Then it moves into a complicated series of rules for how to make decisions—rules random people voting on Twitter have no obligation to follow. The rest of the series is boring. Here's an excerpt from the latest entry:
A 4-seed in our mighty Big Bracket Nation, [Brandon] Knight faced long odds in his second-round matchup with Anthony Davis, the top seed in the tournament and the odds-on favorite to win the whole thing. But even we didn't see Tuesday's overwhelming victory for AD coming. Knight received just 142 votes—or nearly half of what Joey Dorsey got in his first-round matchup with Davis. Good luck to Marcus Camby in Round 3!
Anthony Davis is objectively a better player than Brandon Knight! This is not sports, where an underdog can pull a legitimate upset, it's literally just comparing stats. Brandon Knight got nearly half the number of votes Joey Dorsey did?! Thank God this information is now in my brain.
To make things worse, brackets are designed to elicit internet outrage. People on your social media feeds are far too excited to inform you that they picked "Famous" to win in an upset over "Flashing Lights" or how angry they are that their favorite meme didn't make the bracket. I don't give a shit about your NCAA tournament bracket either, but at least it makes sense. But the No. 1 hot-ugly guy? In the words of a No. 1-seed in any best tweet bracket: "Nobody cares!!!"

Brackets are only necessary when you need to eliminate things one by one. NCAA tournament-inspired brackets should not be brackets. Please: Stop the madness.