As we mentioned the other day, the widow of Joe Paterno's big interview with Katie Couric is all set to go down on Monday afternoon. But the timing of that interview now makes much more sense: The Centre Daily Times of State College, Pa., is reporting that the Paterno family's long-awaited rebuttal to the Freeh report will be released and discussed during ESPN's Outside the Lines at 9 a.m. Sunday. The Paternos' report is said to run some 180 pages. Here's an idea of what it will say:
The report is expected to challenge former FBI director Louis Freeh's tactics, alleging that he ignored information during his investigation, sources told the Centre Daily Times.

The report was generated by a "national prominent team of experts," one of the sources said, and discusses all of the Freeh charges point by point. The source said the report is "extremely comprehensive."
Freeh's report was a private investigation of Penn State, bought and paid for by Penn State; the Paternos' investigation was conducted to fit a predetermined conclusion. It's entirely possible Freeh might've ignored some important things, especially given Freeh's notorious history of investigative overreach. It's pretty much a given that the Paternos' report will elide things we already know. But we'll keep an open mind—maybe they'll surprise us.
The details of Sue Paterno's interview with Couric are also starting to trickle out. ABC 27 in Harrisburg, Pa., spoke to Couric yesterday and got a glimpse. The Paterno family, Couric said, is "still in a state of shock that this could happen":
Also shocking to the Paternos, according to Couric, was the extent of Sandusky's abuse.

"Sue said sometimes on the road at a hotel, Sandusky would be in the pool with the Paterno kids and she said, 'Never in a million years would I have let my children spend time with Jerry Sandusky if I had any inkling he could have committed these crimes,' " Couric said.
G/O Media may get a commission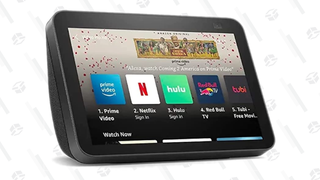 Then again, there never was any indication that Sue Paterno was told Sandusky had been accused of anything. Also, Sandusky retired after the 1999 season, so he wouldn't have been going on the road with the Penn State football team after that. The only known allegation against him prior to his retirement was made in '98, and it led to no criminal charges. There would have been little reason for Sue Paterno to have suspected anything at that time, even if she had been told Sandusky was investigated and cleared by police for grabbing a boy in a shower. But the extent of Sandusky's abuse really became apparent in 2001, when an eyewitness saw him doing something "sexual" with a child in a Penn State football building shower and reported it to university officials, who never turned that information over to police investigators or child welfare officials. Why would anyone think Joe Paterno's wife was told about any of that?
There will be more from Sue Paterno, to be sure. And Michael McCann, the legal analyst for Sports Illustrated and SI.com, is also expected to appear on Katie during Monday's broadcast.
See Also: Here's The Letter Joe Paterno's Widow Sent To Penn State Football Lettermen Today