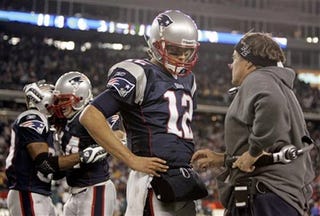 The Eagles might have fallen just short tonight, but three important things happened.
1. Andy Reid, courageously casting aside Those Family Issues — he's a hero! — just provided a blueprint on how to possibly beat the Patriots.
2. Tom Brady looked noticeably concerned at several points. Well, at least, not smirking.
3. Most important, they made that Foxboro crowd go silent. That place doesn't necessarily take a punch well.
Much more tomorrow, once our Wes Welker fever abates ... and we finish strangling our Neil Rackers doll.