Now that the draft has come and gone without a Jimmy Garoppolo trade, it's time to wonder what the Patriots' end game is here. Because they're going to have one big-ass decision to make in the months ahead. Tom E. Curran of CSN New England calls what's potentially brewing in Foxboro "a tsunami," and he's not wrong—depending on what the Patriots really think of Garoppolo.
Jokic? Embiid? The NBA MVP is obvious... right? | Keep it a Buck(et)
Tom Brady, a marvel just three months removed from the masterful comeback that earned him his fifth Super Bowl ring, will still be the Patriots' quarterback this fall. So don't worry about that. Brady's contract also doesn't expire until after the 2019 season, so he would seem to have three years of remaining job security, and besides the Patriots certainly wouldn't cut Tawmmy Fahkin' Brady, would they? Well ...
Brady turns 40 in August, and for however long he may think he can keep stopping the clock by eating rabbit food, Father Time eventually wins. The Pats will soon have to plan for life after Brady, which is why their biggest question going forward will be: Do they think Garoppolo is their future franchise quarterback? The nightmare scenario—having to decide while Brady is still as effective as ever—looks like it's coming true. So the answer may have to come before the 2017 season is out.
G/O Media may get a commission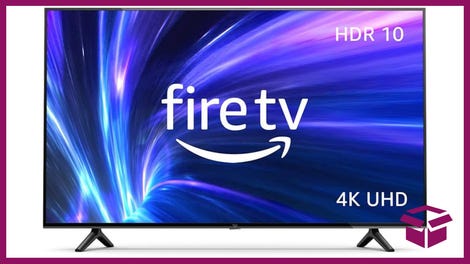 42% Off
Amazon Fire TV 50" 4K Smart TV
Garoppolo is about to enter the final year of his rookie contract. He will earn just $820,077 and count a mere $1.1 million against the salary cap. Even as backup quarterbacks go, that's a bargain. But because Garoppolo was drafted in the second round, rather than the first, the Pats do not have the luxury of a fifth-year option on him for 2018. He is scheduled to become an unrestricted free agent next year, and even though he's made just two career starts across four seasons as Brady's understudy, he'll be in demand.
If the Pats want to retain Garoppolo in 2018, they're going to have to pay him lots of money: The market rate for free-agent NFL starting quarterbacks currently starts at $15 million in average annual value, and even that figure is what the Bears gave Mike Glennon just to keep a seat warm for Mitchell Trubisky. Garoppolo is likely to command way more. The Patriots could put the franchise tag on Garoppolo, but the tag would require them to pay the average of next year's top five quarterback salaries, fully guaranteed. This year, that figure was $19.953 million. The franchise number hasn't yet been determined for next year, but you can count on it being even higher.
This is where a Brady-Garoppolo decision will ultimately come to a head for New England. Brady is scheduled to earn $15 million in 2018, with a $22 million cap hit. And the Pats are running out of room to re-work his contract. The two sides could agree to another restructure, but Brady has already converted enough of his salary into a pro-rated signing bonus to reduce his 2017 salary to just $1 million. And if the Pats wanted to do anything similar with any of that $15 million he's due in 2018, there's nowhere to really put it: They'd only be adding to the $7 million in bonus proration that's already scheduled to count against their 2019 cap no matter what—a figure that would then get added to the $15 million in salary Brady would be due that year, assuming he hasn't been cut before then.
What would cutting Brady after 2017 mean, aside from mass hysteria from New Haven to Bar Harbor? It's not unprecedented for a Hall of Fame quarterback to be kicked to the curb late in his career with stuff left in the tank—Peyton Manning comes immediately to mind—though, as Curran pointed out, there's no real parallel for what the Pats might face with Brady, who still appears to be at the height of his powers.
Practically speaking, by releasing Brady the Pats would have to eat $14 million in 2018 dead money, a sunk cost attributable to kicking the can down the road for so many years. The Pats could spread that out by designating Brady as a post-June 1 cut, which would mean he'd count $7 million in dead money in 2018 and another $7 million in 2019. The Pats could also try to flip Brady—the 49ers sent Joe Montana to the Chiefs when he was about to turn 37, and Brett Favre was shipped from the Packers to the Jets a few months before Favre turned 39—but a trade would accelerate $14 million in dead money onto the Pats' 2018 cap, though they would get something in return.
Of course, all of these scenarios assume the Patriots actually think Garoppolo is their post-Brady man. Right now, there's reason to think they do. Before the draft, there was a great deal of smoke surrounding a possible trade with the Browns, who have been hoarding draft capital. There never was any fire, though, and while the Pats publicly played it coy, NFL Network's Ian Rapoport eventually reported this (emphasis mine):
"From my understanding, the Patriots do not want to deal Jimmy Garoppolo. They really just don't, whether it's to the Browns, whether it's to the Texans. Their stance right now ... is they do not want to give up someone who they consider a franchise quarterback for a pick this year."
That this year at the end of Rapoport's report still leaves open the possibility of a future trade, perhaps even as late as the midseason trade deadline. The Pats surprisingly moved linebacker Jamie Collins in-season last year, but they figure to get a smaller return on a Garoppolo deal now than they would have before the draft because QB-needy teams like the Browns and Texans both just invested premium picks in quarterbacks.
The Patriots have been unusually aggressive this offseason. Is that because they understand Brady's time may be limited? The Pats' moves did fit with their longstanding pattern of stubborn unsentimentality, and moving on from Brady before he starts his decline would be their coldest calculation yet. Brady could probably make this easier on them by suddenly stumbling into feeble old age this fall, but right here right now, is anyone ready to bet on that?