The Capitals lost to the Penguins last night, and the final nail in the coffin for Washington came at the very end, when their attempt to pull goalie Braden Holtby for a man advantage was thwarted when the refs called high sticking on T.J. Oshie…

Hey, wait second. Show me that gif again….
Yo, that stick never touched Nick Bonino's face. Did… did he… flop? ARE YOU TELLING ME THERE'S FLOPPING IN HOCKEY?
What the fuck?
There's not supposed to be flopping in hockey! That is NOT Olde Time Hukkey! Hockey is the sport where you keep on playing even with half your kidney hanging out of your asshole! That is what the memes told me! Hockey players are tough and rugged and eat coal for breakfast, and every other kind of athlete is a raging pansy. And yet, look at this shit:
G/O Media may get a commission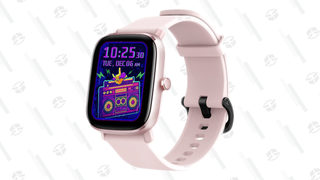 20% Off
Amazfit GTS 2 Mini Smart Watch
Get fit
Has built-in Alexa so you can ask questions and carry your smart assistant around with you; it has a battery that can last up to 14 days, has over 70 different sport modes, is 5ATM waterproof, and tracks stats like your heart rate, calories burned, sleep, and more.
That's another Penguin, Scott "Vlade" Wilson, taking the dive that helped lead to the game-winning goal. I am disgusted. Who put all this soccer in my hockey? Does this happen a lot? Is this hockey's hidden shame? Are you telling me that Oshie once also flopped himself when playing aga(y)nst the man who flopped on him? Hockey has a lot to answer for right now, especially to extremely casual fans like me who don't understand anything.
Please note that the Capitals are in grave danger of choking their way out of the playoffs yet again for a litany of reasons. They out-shot Pittsburgh by—and this is strictly a guesstimate on my part—53 million to nine. But the Capitals stage this kind of inexplicable loss—where they out-shoot and "outplay" an opponent—with a kind of fierce consistency, going by this post from Dan Steinberg. Why, it's almost as if the Capitals have a greater issue with shot selection than number of shots! Also, Penguins goalie Marc-Andre Fleury is basically the human form of this:
So, in the grand scheme of things, the Capitals have no one but themselves to blame for their current predicament. But the Penguins are some flopping-ass shitbirds, I'll tell you that. Flopping in hockey should be punished with island prison.