It's done. It's over. Professional sports' longest string of losing seasons ended last night, as the Pirates won their 81st game to guarantee at least a .500 year for the first time since 1992. Only problem is, these Pirates are too good to get excited about merely winning.
The last time the Bucs won their 81st, George H.W. Bush was in the White House, Honeymoon in Vegas was No. 1 at the box office, and home runs from Jay Bell, Jeff King, and Gary Varsho sealed the deal. Neil Walker, who grew up in Pittsburgh a Pirates fan, was six years old. Last night's starter, Gerritt Cole, had just turned two.
The hero this time around was as unlikely as it gets. Travis Snider, who missed more than a month with injury and has been relegated to the bench, came to the plate as a pinch-hitter in the top of the ninth with the game tied.
"I was fired up," Snider said afterward. "We all know what is at stake."
Still, 81's only a number. A number that means your team is at least average, sure, and that's a big deal—the last two decades of Pirates fans would be thrilled to be middling. We're passable! We're not embarrassing! But these Pirates have somehow gone and been even better than just tolerable. They're a real, live, division-leading, quality-ballplaying team. The number that matters now is 14: the Pirates' magic number to clinch a playoff spot.
"[.500 has] never been a goal," Pirates president Frank Coonelly said. "Not counting down the days for that, counting the days that we can hoist the National League Central flag at PNC Park."
G/O Media may get a commission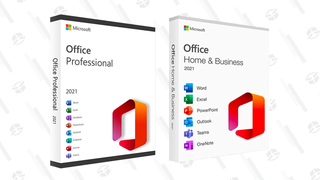 89% off
Microsoft Office Professional 2021 Lifetime License
Longtime clubhouse manager Scott Bonnett echoed the sentiment.
"A couple years ago .500 meant a lot. Now, I don't want .500. I want pennants. Championships."
So save the champagne. But crack open a beer and salute a job well-started. This sport's a cruel one, and October holds the threat of a pain more acute than constant mediocrity. It's a pain Pirates fans would have killed to experience these past 20 years—now they get their chance like everyone else.