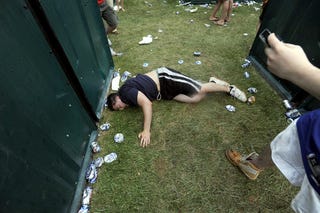 After a ban on outside beverages led to a huge drop in attendance last year, officials at Pimlico Racetrack are changing course. Still no outside drinks, but $20 gets you a bottomless mug of beer. This plan has no flaws.
They've also lowered the price of admission for this year's Preakness Stakes, from $50 to $40. So you no longer need to haul your cooler full of Natty Boh down to the track, because the event is now a day-long open bar for sixty bucks. As a cure for drunkenness this seems counterproductive—though quite lucrative for beer vendors—but at least it will cure the welts on your head that normally result from flying aluminum cans as you run the port-a-john gauntlet. Which you will definitely be doing after you enjoy free refills in the hot sun for six hours.
Of course, this might be the last year they even have a Triple Crown—the Belmont Stakes is a bit of a financial pickle—so drink, drink and be merry for tomorrow horse racing dies.
Preakness: Infield party to pour unlimited refills of beer [Baltimore Sun]
Earlier: Requiem For The Pimlico Beer Gauntlet
[Best photos ever via the Christopher T. Assaf of The Baltimore Sun.]