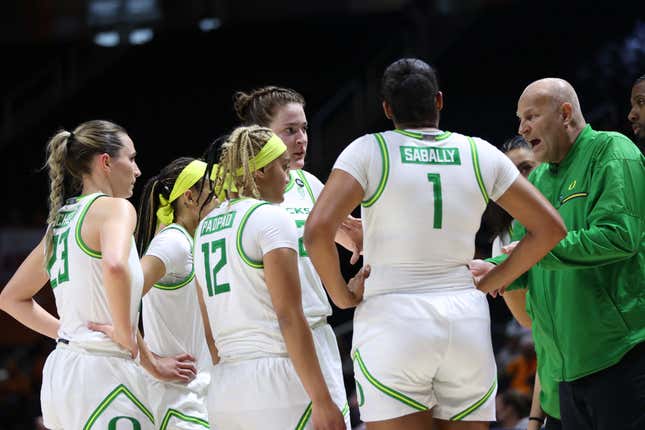 It was a year ago that Sedona Prince went on social media and showed the world the shabby treatment that the NCAA was giving to women's basketball players compared to the men.
Grant Hill looks to repeat Team USA's 2004 "success"
In the year since, a lot has changed. The women's tournament now gets to use the March Madness moniker, the women's tournament selection show moved to a new time slot and ratings skyrocketed, and women, including Prince, have started to be able to reap the rewards of name, image, and likeness deals.
All of that happened as a result of a significant amount of egg on the NCAA's face, egg put there by Prince — and by extension, Oregon. That's not to say that the Ducks' first-round exit from March Madness is the result of subterfuge by the governing body, but it's also not not to say that.
The Ducks finished second in the Pac-12 this season, and after beating UCLA to start the conference tournament, got upset by sixth-seeded Utah in the semifinals. That got Oregon a No. 5 seed in the NCAA's Wichita Region. Arizona, which finished fourth in the Pac-12 and lost to Colorado in the conference quarterfinals, wound up with the No. 4 seed in the Greensboro Region.
So, instead of getting to stay home for the opening weekend of the Big Dance as a top-four seed, Oregon not only had to travel, but had to travel to Tennessee. When they got there, their opponent would be 12th-seeded Belmont, from Nashville, a shorter drive to the game in Knoxville than the Ducks had to fly.
Not only did Belmont have the benefit of a short trip through familiar territory, the Bruins came into the tournament as one of America's hottest teams, with 12 straight wins since a 70-68 loss at Austin Peay on Jan. 27 — a loss avenged with a 63-51 dismissal of the Governors in the Ohio Valley tournament.
Belmont was a winner as a No. 12 seed last year against Gonzaga in the first round, that one in San Marcos, Texas. And now, they're on to the second round again, after a 73-70 overtime triumph over Oregon.
The Ducks' last shot was somehow a three-point try at the buzzer by Prince, who had attempted only one shot from downtown all season, a miss against Arizona on January 15. That was one of 17 misses that Oregon had on three-pointers, out of 21 tries. That, more than anything inherent about the matchup, is why the Ducks are headed back to Eugene… but the NCAA sure didn't do Oregon any favors, and you can imagine why that might be.