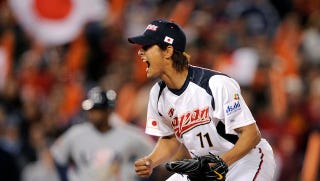 Your roundup of all the hottest hot-stove items of the day (and whatever shit Ken Rosenthal is throwing against the wall). This is ... HOT FUCKING STOVE!!
• Yu Darvish will probably be a Ranger. Darvish's Japanese team confirmed Texas won the rights to negotiate with him last night with a $52 million bid. Toronto was long presumed to be the favorite, but that's not how it played out. The world's most famous half-Iranian, half-Japanese pitcher will probably be spending the next few years sweating up a storm in Arlington. And what do you know? Yu's new agent would like you to know he's a big fan of the Rangers organization.
• Dmitri Young continues to think people care about his comeback.
• Ousted Astros GM Ed Wade is re-joining with his old trading partner Ruben Amaro Jr. in Philadelphia, where Wade had previously served as GM. Folks in Houston are left to wonder if Wade had been working for the Phillies all along.
• Roy Oswalt is coming to terms with the fact that nobody in their right mind will give him a multiyear deal.
• The Braves are suing Disney for naming an upcoming Pixar project "Brave," even though the movie has nothing to do with the team or the tribe they're named after.
• Ken Rosenthal throws some shit against the wall.