The Toronto Raptors have now won eight in a row, after coolly dispatching the horrid Knicks Sunday afternoon at Madison Square Garden. I have been resisting this take for some time, but it can be resisted no longer: the Raptors are genuinely, truly Good. They are the best team in the Eastern Conference, and, barring injury, I do not expect any team in the Eastern Conference to stand between them and an appearance in the NBA Finals. God help me.
Sunday's win wasn't especially impressive—they beat the Knicks, for crying out loud—except that they hung 132 points on the board despite Kyle Lowry, DeMar DeRozan, and Serge Ibaka shooting a combined 12-of-38 from the floor. The Raptors are incredibly deep in useful dudes: Jakob Poeltl has emerged as an especially good rotation-grade big man; Pascal Siakam suddenly has moves; Delon Wright has moves on top of moves; C.J. Miles, I shit you not, is maybe the most terrifying pure shooter not plying his trade in a Golden State Warriors jersey. Even Jonas Valenciunas has survived his brush with obsolescence to become a credible three-point shooter. The Raptors were very recently just the barely-watchable ho-hum product of a lot of Lowry and DeRozan improvisation and ref-baiting; now they are a zippy team of fun athletes, playing an open and telegenic brand of basketball. If Dwane Casey doesn't win Coach of the Year, it will be because the voters are shitheads.
The most impressive of Toronto's wealth of off-brand studs is Fred VanVleet. Last season VanVleet was pesky and surprisingly useful, despite generally inefficient scoring, and despite being roughly the size of a dust mite. This season he is a damn monster: he leads all Raptors regulars in net rating, at an absurd plus-14.1 in a whoa-this-is-getting-serious 20 minutes per game; he's churning out a delicious 3:1 assist-to-turnover ratio; his defensive rating, at 97.5, is more than 2.5 points lower than the next lowest rotation guy on the team. Friday night the Raptors broke up Houston's 17-game win streak in a wonderfully entertaining game that came right down to the finish, and VanVleet played the entire fourth quarter. In there, while the Rockets fought from behind, VanVleet completely undressed Chris Paul:
What happened immediately before that play was a ridiculous fading corner three from Miles, assisted by VanVleet; what happened immediately after the Poeltl steal was an athletic, spinning Siakam layup, in transition. In the span of about 14 seconds of game clock, Toronto's bench extended a four point lead to a nine point lead, over the best team in the NBA.

Depth is a real standout strength for the Raptors, but conventional wisdom says tightened rotations in the playoffs negate some of that strength once the regular season ends. But the Raptors aren't just deep in competent players; they're deep in useful, versatile, attacking players, who know where to be on the floor and what they're supposed to do when they get there. Not only would I feel confident in any Raptors bench lineup toppling any opposing bench lineup, I would feel confident in the Raptors, as a function of all this depth, simply wearing down opponents over the course of a series, with wave after wave of fresh and focused and competitive players, playing to their strengths. Probably I will wish I had never said this, but right now it's hard to imagine the Raptors losing a series against almost anyone, given their relentlessly high level of two-way proficiency.
G/O Media may get a commission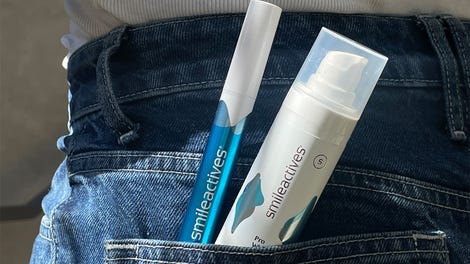 58% off
Whitening Powerhouse Pen & Gel Duo
The Raptors have a 2.5 game lead for the top seed in the East. They've also got the NBA's fourth-ranked offensive rating, and the NBA's third-ranked defensive rating. They—not the Golden State Warriors, not the Houston Rockets—are the only team in the top five in both categories. They've now beaten the Rockets twice this season, they smoked the Cavs in January, they beat the Celtics by 20 in February, and they've lost twice to the Warriors by a combined seven points. I can't believe I'm saying this: The Raptors are a very serious championship contender. I like their chances.