The Bengals beat the Redskins with a lot of interesting play calling and strong play from Andy Dalton and A.J. Green. But for a lot of the game, it seemed like the Redskins were just playing badly. At half time, it was 24-10 Washington, and people we're saying stuff like this:
What? I don't know what that means. Let's go a little simpler: most people we're saying stuff like this:
Indeed, for a while. We already grabbed one of the big highlights that contributed to that—Sanu to Green for six—but this is the weird play that kept the Redskins in the game early. The Bengals were backed up into their own endzone and Andy Dalton pretty much threw exactly where he shouldn't have. Credit Washington Linebacker Rob Jackson for the quick reflexes: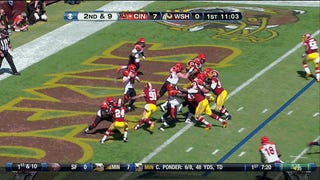 Despite 17 consecutive points to get the Redskins to 31-24, the Bengals never actually trailed, and looked well in control until the wild flurry from the Redskins that came up just short. A.J. Green had 183 yards receiving, which leads WRs for the week so far; Robert Griffin (sigh, "the third") came back down to earth a bit, though he did lead the Redskins in rushing with 85 yards. He also got sacked 6 times for losses of 53 yards, so that'll hurt you. (2-1) Bengals 38, (1-2) Redskins 31.