The following is excerpted from Curtis's cover story in the May issue of Texas Monthly about the Rangers — "an AA meeting in spikes," he writes.
C.J. Wilson and I are talking about writing: novels, screenplays, TV shows, all the ways in which words arrange themselves into art. "I love literature," the left-hander says. "I love film. The creative narrative is something I can't get enough of." I've had lots of giddy conversations with writers, though never with one who has a fastball that touches 98 miles per hour. In a season when the Rangers supplied great copy to every sportswriter in the country, Wilson was hunched over a computer, trying to churn out his own.
In the post–Cliff Lee era, Wilson, who won fifteen games last season, is the Rangers' number one starter. He's also their ambassador to the world of letters. Last spring, Wilson tweeted at Carlton Cuse, one of the creators of Lost, just as the show was entering its final season. The two hit it off, and soon Cuse welcomed him into the Lost editing room, immersing Wilson in the creative energy of the show. (Yes, he liked the finale.)
After Lost ended and the Rangers lost the World Series, the two men resumed their collaboration over a series of dinners in Los Angeles. "We talk about everything," Cuse tells me. "We talk about baseball, but that's only a small part of it. We talk about writing, about the creative process. We talk about our lives."
They also talk about Wilson becoming a TV writer some day. "Athletes get pigeonholed into being announcers," Cuse says. "But I think C.J.'s more interested in the kind of things I do. It's entirely within his capacity to become a really good writer or producer."
G/O Media may get a commission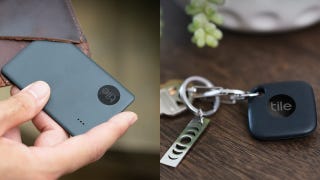 Up to 35% off
Tile Item Trackers
Wilson looks the part of a Hollywood scribe. He arrived at our interview wearing dark sunglasses and a V-neck T-shirt. By age five or six, Wilson had used his mother's typewriter in Huntington Beach, California, to produce a short story — "Prince Charming Gets the Chick and Rides Off on a Horse." By late high school, he was a good ballplayer producing meandering prose — it was like (and this is Wilson's metaphor) Tolkien cramming all that bad poetry into The Lord of the Rings. Wilson majored in screenwriting at Loyola Marymount, in Los Angeles, where he starred as a pitcher and hitter but decided "academia is not my style. I'd rather slug it out in the trenches."
When he was fourteen, he became straight edge. A popular creed in Orange County's punk scene, it means swearing off alcohol and drugs. "So why didn't you ever try them?" Hamilton once asked him. Well, Wilson had an uncle with a drug problem and was scared straight without ever sampling the stuff himself. He now has the words "Straight Edge" tattooed on his side and three X's — a kind of straight edge logo — sewn into his trademark blue glove. His life is "drug-free," Wilson likes to say, "but it's experience-rich."
Wilson was a loner when he arrived in the Rangers' minor league system, in 2001, with headphones on his ears and his nose buried in a novel. It was (again, Wilson's metaphor) a Black Swan period: His mind was feeding feverishly on itself. After hurting his elbow in 2003, he had surgery and was out of baseball for eighteen months. So he got a job at Nordstrom to learn how to better converse with people. He got serious about photography. He had nearly drowned a couple of times while surfing, but he went back to Orange County and jumped off cliffs into the ocean. "It was, like, sketchy," he says. "But I was like, 'Hey, if I die, I die. Cool. At least I tried this.'"
By 2005 he was on the Rangers' big-league squad and working on a novel that takes the form of the journal of a dead minor leaguer. "I couldn't finish it," he says. "There was too much of my DNA in it." In 2009 he started a Twitter account with the handle @str8edgeracer. Wilson, you see, also drives race cars. "The only hobby I pay attention to is the race car driving," says Jon Daniels. "I don't think he can get hurt writing a television show."
On the mound, Wilson is a clever pitcher, with an excellent cut fastball and a host of breaking balls that eat up left-handers. He has carved out a role on the Rangers like the one Ball Four's Jim Bouton played with the Yankees in the sixties. "I'm kind of part of it," Wilson says of his team, "but I'm also an observer." In 2008 it was Wilson who told ESPN.com that no one in the Rangers locker room was talking about the historic presidential election. When a teammate challenged him, Wilson defended his comment by writing on a message board that the average major leaguer "is relatively a douchebag." Another former Ranger — Wilson won't identify him — recognized the description and posted paper copies of the quote in each player's locker.
"The reality is that at the time I wrote it, there was a guy on our team that was gambling on sports," Wilson says. "This guy, I just didn't have any respect for him. I was thinking, if this guy needed money, maybe he would bet on baseball. I didn't see anything in his moral fiber that would stop him from doing that."
The incident points out an interesting thing about Wilson. He embodies baseball's ideal definition of morality: no drinking, no drugs, a monastic code that is literally tattooed on his body. But with his Twitter account and writerly predilection, Wilson has something baseball fears more than anything else: a restless mind. "You can never make everybody happy," he tells me, "unless you're doing things that are disingenuous." Spoken like a true writer.
This role of being in baseball but also observing baseball has attuned him to the rhythms of the locker room. Two years ago the Rangers held a hazing event in which veterans each got to dress a rookie in a humiliating outfit. Most chose negligees and bikinis. Wilson got his rookie, the Dominican pitcher Pedro Strop, a six-foot-tall beaver costume. He figured it would give Strop, who might never make it back to the bigs, an ounce of dignity.
"I think right now," Wilson tells me, "I could write commercials." Before the season started, he and Cuse released a Funny or Die video that had Wilson "working out" by doing chores at Cuse's house. He says he'll pick up that baseball novel after his career is over. And there's a semi-formed idea for a TV show about his friends back in California, a kind of straight edge Entourage. "I'm glad I went cliff jumping," he says. "I'm glad I almost drowned. I will write about those experiences, and it will be interesting."
For more, visit Texas Monthly's website. Game photo via Under The Weather.