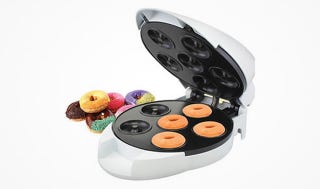 Donuts don't have to be for in-mall starvation attacks, road trips, county fairs, or your office's morale-boosting "Treat Fridays" anymore. You can now whip up a sextet of luscious dough-balls right in your very own home.
Warning: the Mini Donut Factory does not come with a lifetime supply of passes to Lucille Roberts' Butt and Gutt classes, so adjust your activity level accordingly once you bring this little Teflon-covered slice of heaven home. $19.99
Click here to find this and other items that May Cause Heart Attack in Gawker's Great Finds Gift Guide, driven by the all-new 2011 Jetta.