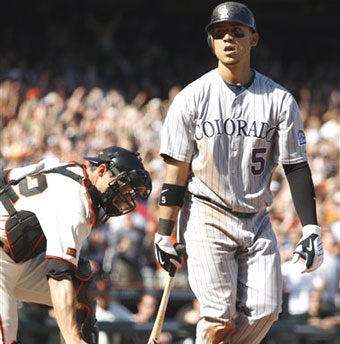 Remember last week when I awarded Colorado the National League championship? Yeah, that was fun. It just goes to show you that a watched pot of history-making sports feats usually doesn't boil.
Two weekends ago, the Rockies swept the Giants to take command of the Wild Card and eventually closed within two games of the division lead. This weekend, they got swept by the Giants (for five losses in a row) are now in a tie for the Wild Card and the Dodgers NL West lead seems comfortably safe. So we probably won't be seeing the biggest comeback in pennant chase history and the Rockies need to seriously step it back up if they hope to even make the playoffs. All because people like me had to go and jump the gun.
So did I jinx them? I'm going to go ahead and say that yes, it's my fault, because I need to believe in the importance of my own words. If there are any other teams you would like to see fall from a precipitous height, just give me a reason to write about how awesome they are.
Giants sweep Rockies, tie for wild-card lead [The Denver Post]
Giants 9, Rockies 5: Bullpen hands San Francisco share of wild card lead [Purple Row]
Wild Giants are all over the map [San Jose Mercury News]
Rockies familiar with late-season push [MLB, Friday]
Sports Illustrated gives Giants run support [San Francisco Examiner]