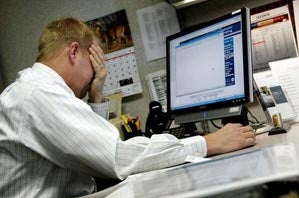 As some had predicted, the Rockies had all kinds of issues selling their World Series tickets online yesterday. That's a problem, because, you know, they have a game at Coors on Saturday.
Well, they're gonna give it another go in about an hour and a half. What happened yesterday? Well, according to the Rockies, people trying to get tickets are "malicious."
A "malicious, external attack" on the ticket sales system forced the suspension of Monday's sale with only 500 tickets of the nearly 60,000 available sold, Rockies spokesman Jay Alves said late Monday.

Despite Monday's troubles, Major League Baseball officials handling the ticket sales are confident that today's sale will run "smoothly," Alves said.
But the story merely says that "the website took 8.5 million hits in a 90-minute period that began at 10 a.m. Monday and proved too much for the system to handle." That doesn't sound malicious to us.
Anyway, set your browsers to Buy!
High Noon For Rox Tickets [Denver Post]