Comes now the case of The Lady With Irritable Bowels vs. ESPN, in which a longtime employee of the Worldwide Leader, beset by looming layoffs and a spastic colon, finds herself pooping repeatedly in an office garbage can. It'll break your heart.
We'll call the plaintiff Jane Doe. In the lawsuit, filed earlier this month in New Britain, Conn., Superior Court, Jane says she was hired in 1980 as one of ESPN's original employees, and she worked in Bristol until the spring of last year. (For her sake, we won't say in what capacity.) For almost as long, she received treatment for an uncomfortable disorder that I'll leave to her lawsuit to describe:
This was a stressful time to work at ESPN. Layoffs were on the horizon, and employees labored in the shadow of George Bodenheimer's swinging axe.
G/O Media may get a commission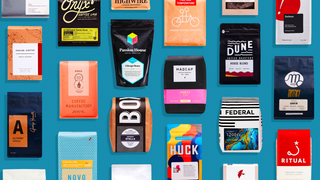 Get $25 free
Trade Coffee - National Coffee Day
The situation was doubly bad for Jane.
Her doctor had retired, and according to the lawsuit, Jane couldn't get an appointment with a new one for several weeks. Meantime, in March of last year, she began to experience "severe cramping." And as her suit puts it: "[W]henever she had moments of fear, she needed to use the bathroom immediately."
To clarify: Jane's symptoms — perhaps compounded by the stress of the workplace — would so overwhelm her that she would have to dash into a meeting room, lock the door, crap in a garbage can, double-bag it, and then dispose of her own waste. As it happens, this is also how ESPN makes First Take.
Jane told no one, for perfectly understandable reasons. She had scheduled an appointment with a doctor for the last week of March, and one assumes that at this point, she thought she was in the clear. Not so fast, my friend.
Yes, Jane had been caught on camera.
She explained to Hrisko that she was not disgruntled, merely incontinent — that in fact she had a medical condition but no medication. Jane was suspended one week without pay. According to the lawsuit, the personnel director promised to fight for her. Alas ...
Jane is now suing for damages in excess of $15,000, claiming that ESPN violated the state's Fair Employment Practices Act. "The suit is without merit," an ESPN spokesman says, "and she was dismissed for misconduct." That may well be, but however the court decides, ESPN has already lost. The company has created in Jane a martyr, either to her own infirmities or to the spirit of honorable protest. And above all, Jane has provided an enduring metaphor for what her former employer delivers to us on a daily basis: a large sack of its own crap.