As your weekend begins, take some time and read some of the recently filed indictment against Karen Sypher, the wacky woman who is now being charged with extortion of Rick Pitino.
The creepy misdeeds Sypher accused Pitino of doing to her are still unclear, but we do find out that Pitino implies he knows exactly what she's extorting him over and suggests that it happened some time in 2003. He also states that it was an incident that occurred "prior to when Ms. Sypher was married. " Whatever that means. FBI agent Steven Wright seems pretty convinced that the once behatted lady was using whatever embarrassing information she has on Pitino to pressure him into forking over some major cash and prizes. Enjoy.
G/O Media may get a commission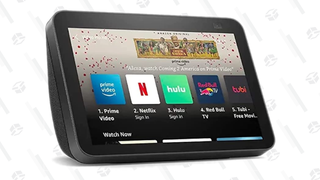 So even though none of the allegations against Pitino can be confirmed, you still get the sense that something shady happened between the two of them in 2003. Italians.
Karen Sypher Charged With Extortion Of Louisville Coach Rick Pitino [Courier-Journal]
******
Alright. It's the weekend. It's warm. And I'm getting out of this wretched city for a while to have a douche-filled 24 hours with some of the D.C. sports blogging hierarchy. Oh, and if any one has an extra iPhone they can send me, I'd appreciate it. I lost mine at some point on Wednesday night. Shittyness.
Thank you for your continued support of Deadspin. This weekend we have Moe Sussman on Saturday doing all your NFL Draft Day news. Sunday — Dash.
Vamonos.