Most of the media were at the Centre County Courthouse before 7 a.m. for an 8:30 hearing. The expectation was that many of the victims would testify in graphic detail. Instead, it was over in a second. Sandusky chose to waive the proceeding altogether and hold all the charges over for trial. Immediately afterward, the media's first move was to wait for Sandusky to depart the building by its back entrance, from which he was whisked away in a black BMW SUV. Oh, and look: snipers.
Most criminal defendants leave their court appearances without answering any of those questions being shouted at them by the media. Not Jerry Sandusky: "We fully intend to put together the best possible defense and stay the course for four full quarters."
Back out front, the horde gathered 'round to hear what Marc Costanzo, a senior deputy attorney general for the state of Pennsylvania, had to say.
G/O Media may get a commission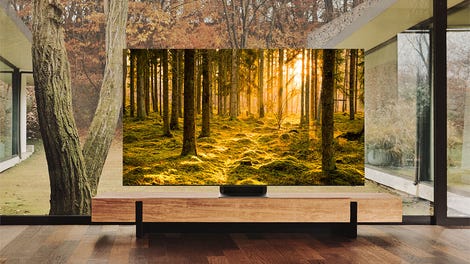 Up to 40% off
Samsung Smart TVs
Michael Boni, the attorney representing Victim 1, took questions from a succession of smaller media scrums.
Bellefonte's never seen anything like this! Can't wait to post this shit on Friendster!
Um, what are we gonna do now?
Hey! I think that's Tom Farrell, the lawyer representing Gary Schultz, one of the Penn State administrators charged with perjury and failure to report the allegations made against Sandusky! Let's chase him into a pharmacy across the street and wait for him to come out!
Lawyerin' Joe Amendola staged a press conference that began around 9:30 a.m. and lasted for close to an hour. He also did so without wearing a coat, despite frigid temperatures that were typical for a December day in the Nittany Mountains. And even after most of the horde left to find some place warm, Ol' Joe kept taking questions from the various media outlets that requested one-on-ones in front of the camera. Here he is with CNN, still not wearing a coat, roughly two hours after he started. 1-800-Brrrrrr!