Friday night, in the third quarter of a home game against the Boston Celtics, Steph Curry started throwing up threes with no more trouble than a drunk trying to fall onto a sofa. Six for six he was, the kind of eruption that literally changes the dimensions of the game: He buried one trey from just inside the Warriors' midcourt logo over two defenders who had commuted out to challenge him. It was a damn spectacle that seemed to change even the way ESPN's cameramen framed the game; they were zooming out, to get the Muppet Show that is the lower bowl at Oracle Arena going ape for every improbable splash. But, fuck it, I like watching basketball, and I like watching this particular Warriors team, so why not all be vicarious lower-bowl Oracle silicon front-running millionaire Chads while we can?

It's also fun as shit to watch those cats lose, though, as they did to Boston, which snapped a league-record 54-game home win streak. Flip through the Warriors' side of the box score, you'll notice the W's hit 20 3-pointers (on just 43 attempts), yeah, whoa. Meanwhile, the Celtics' line was seemingly much more conventional. They hit a few more free throws, forced a few more turnovers. They're one of the few squads in the league that like to run as much as the Warriors; in the second half, Isaiah Thomas was the fastest player on the floor, and with shoulders that let him bash his way through Curry and right to the rim. The Warriors may well top the Bulls' record 72 wins in a season, but they're not invulnerable (certainly not when Andre Iguodala's out and Andrew Bogut musters only 4 points and 4 boards).
Yet you might yet forgive the Warriors' owners for believing they've reinvented the NBA. The New York Times Magazine this week ran a deep dive on the midlife-bored guys who got together and bought the Warriors in 2010. They took over a team that couldn't find the playoffs with 82 games and NBA League Pass. The key drivers were Joe Lacob, the majority owner, who's made his bones at Silicon Valley venture firm KPCB, and his partner Peter Guber, the CEO of Mandalay Entertainment, which makes movies. (Your ticket to Sleepy Hollow helped buy out Don Nelson.) Their group paid $450 million, for a team that only a few seasons later is worth close to $2 billion.
Of course, the whole NBA has bloomed in that time, with franchise values roughly tripling in average value, per the respective 2010 and 2016 Forbes analyses, but let's assume these guys are the font of all their successes. After all, Lacob did tell the Mercury-News in 2011 that he'd gone through life making his own way. ("I was a very poor kid. Had nothing. I paid every dime of my education through college. Every single dime. I was the first person to graduate from college in the history of my family. Ever. I came from nothing.") That story goes on to elaborate that "nothing" included two parents who both worked constantly, at a paper products company and at a grocery store, presumably in hopes that Joe would go on to accomplish great things, such as giving interviews to major newspapers about the hell of growing up in a house where people had to actually work for a living.
G/O Media may get a commission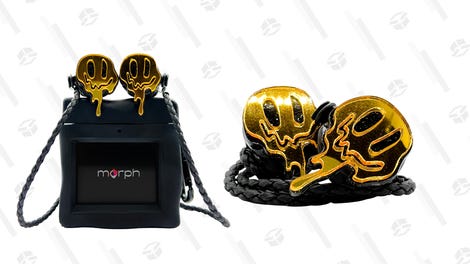 morph audio
Morph Earphones
The theme of Joe vs. the World continues through the Times Magazine piece. See if you can guess which of these Lacob quotes is from the story and which one is bullshit:
"We've crushed [other teams] on the basketball court, and we're going to for years because of the way we've built this team. We're light-years ahead of probably every other team in structure, in planning, in how we're going to go about things."
"It's not just Steph Curry. It's architecting a team, a style of play, the way they all play together. It's all extremely thought through."
"Crush your enemies. See them driven before you. Hear the lamentations of their women."
Ha, bit of a trick question there. The first two quotes are indeed Lacob and they are mostly bullshit, whereas the third is from Conan the Barbarian, and contains zero bullshit.
To be fair to Lacob, who seems like a genuinely smart guy who genuinely wants to run a basketball team, he has made some unconventional moves that turned out alight. He hired Bob Myers, an agent and former UCLA player with no pro experience, to the front office; Myers subsequently traded fan-favorite dervish Monta Ellis to the Bucks for Bogut. The fans (WE WANT MONTA!) were not impressed, initially:
That worked out, though it hardly required some sort of basketball Watson to want to move Curry from a more traditional pass-first point guard role to his current position as X-button-masher nonpareil. Lacob also saw the unexpected merits in firing Marc Jackson after a 51-win season and hiring as coach Steve Kerr, whose career highlights till then included a stint as an alleged color commentator on TNT and carrying Michael Jordan's Bulls to the '97 title. Kerr, in turn, showed himself open to taking suggestions from any damn where when, down 2-1 in the Finals last year, he started Iguoadala instead of Bogut to clamp down on LeBron James, at the suggestion of the video dude buried at the bottom of the coaching staff.
This isn't necessarily some revolution in business, though on the part of Lacob and his crew. Other astonishing, disruptive moves they made to rehab an inexplicably moribund franchise that had foundered despite being in one of America's richest and most desirable urban areas included: Making the 50-year-old arena nicer inside. Getting better food for fans there. Planning to move to a nicer arena with more space for things other than basketball that make money. Hiring Jerry West, a long-established managerial maven in the sport, to advise. For that bleeding edge innovator, they had to look exactly as far as the NBA logo. You or I could make most of these moves if we just asked ourselves What Would Mark Cuban Do?
West, though, gets to take the piss out of this exercise in self-congratulation by the corner offices. (For what it's worth, Ray Ratto, who knows what's what, counts West, contra the owners, among people who do deserve credit for the Warriors' renaissance: "None of the owners are soothsayers because no person living, dead or thinking about changing their status knew Curry would be this, or that the roster around him would work this cohesively." And this is a true fact. As the Times Magazine piece details, Curry's balky ankles came thisclose to getting him shipped out of Oakland a couple of years ago. Yoinks.) West, as a former player, coach, and exec on the truly legendary Lakers teams of the last quarter of the 20th century, has a pretty good handle on how much downstream credit owners can justifiably claim.
"[Lakers owner] Jerry Buss was an innovator who thought basketball should have the cachet of a Broadway show," West told me. "The fun! The excitement! But what made that possible? It was winning the way we won. Magic Johnson played the game with a joy that everyone could see. And he played with maybe the greatest player ever in Kareem Abdul-Jabbar. And he had James Worthy. We had seven players you could put on an All-Star team. And Jerry Buss had nothing to do with that."
The truth, like the hottest member of a given threesome, usually lies somewhere in the middle. And I don't really want to shitbird on Lacob because he gave a couple of chest-thumping quotes to some journalists. (It's lousy karma, for one; I also need the occasional chest-thumping quote from prominent people to fill column inches.) Plus, he was plenty magnanimous in spreading around the credit in the wake of the title last year. "It's all about the people you bring on," he says at 7:32, and seems to mean it, even as he's petting himself and the other owners for bringing on Bob Myers.
But his approach strikes me as a product of success at least as much as a producer of success. The Warriors sorta dick-tripped into the most surprising MVP of the past generation, Steve Nash notwithstanding, and otherwise rode mostly very conventional moves to a great deal of success. And venture capitalists by their very nature downplay the essential contributions of workers; when Lacob credits the nightly genius of Klay Thompson and Steph Curry and Draymond Green to his "architecting," it rings wrong. If we were to parcel out credit, I'd estimate Lacob's direct impact on the Warriors' magical run this year sits somewhere between Harrison Barnes's and Festus Ezeli's. Which is still pretty damn good! But let's not kid ourselves about how quickly Lacob's architecting will turn into "those are the breaks of the game" if Curry's ankles give out in the Conference Finals. Or if some other, Celtics-level team bounces them even sooner.
Photo via AP