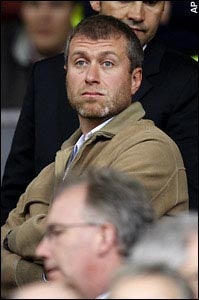 David Hirshey writes regularly for Deadspin about soccer.
So that was one auspicious coaching debut by Roman Abramovich yesterday, huh? What's that? Avram Grant is Chelsea's new manager, not the modelizing meglomaniacal billionaire who owns the team and pulls the strings like Russia's own Jerry Joneski?
Seriously, does anyone really think that Grant decided on his own to start Sheva, Makelele and Ferreira, a troika that my beloved Jose Mourinho (remember him?) held in such high esteem that he selected them in only one of Chelsea's first six Prem games? Or that when a spectacularly boneheaded call reduced the Blues to 10 men after 31 minutes, the Israeli didn't look like a gefilte fish out of water as he came bounding down to the touchline and did, as I believe they say, in West London, bubkes, not even uttering so much as a "you shmuck" to Mike Dean, the clown who issued the red card.

I think we all know how Mourinho would have handled that situation. First he would have called Dean a filho da puta (son of a whore) and then garroted him with his cashmere scarf to within an inch of his life before someone like, say, John Terry would pull him off the now soiled-pantsed whistle blower. Ah, those were the days, comrades, when Chelsea was feared by opponents and referees alike. It's safe to say that if Mourinho had been prowling the touchline, Dean would have thought long and hard about awarding a SECOND egregious penalty to United as he did in the 89th minute when Saha went down faster than one of those $600 an hour "escorts" at Ronaldo's recent all-night spankathon.

Not to get all misty-eyed about the Special One, who, despite his formidable managerial skills, remains a smug, narcissistic dick. But, at least he was nobody's lap-dog. How long after Mikel was sent off and Chelsea was forced to play a man down do you think he would have waited to yank Sheva who looked like he couldn't finish a shot of Stoli, let alone a half decent chance? Certainly not until the 58th minute, which is when Grant finally put the Ukranian striker out of his misery, no doubt after the chip implanted in his brain relayed Abramovich's permission to do so.

This is not to say that Chelsea would have won without Dean's staggering ineptitude — United outshot Chelsea 17 to 4 and got a brilliant goal from Tevez off a perfectly bent cross from Giggs, albeit in the THIRD minute of two minutes of first half stoppage time — but that without Mourinho 's commanding presence they looked clueless, toothless and ultimately, perhaps even Champions League-less.

And yet, after the surreal week they endured, could you really blame them for their zombie-like performance? Well, if you're Mourinho, I suppose you could blame your once huggable captain Judas Terry who, according to reports, was so angered by Mourinho questioning his recent drop in form that he told Chelsea's board the manager had lost had the locker room in the wake of the team's midweek draw with Norway's MLS-caliber powerhouse Rosenborg. Abramovich, who had an uneasy relationship at best with Mourinho , decided — by "mutual consent", of course — that it was time for the Special One to take his excellence elsewhere and installed Grant, or as I now call him, the Special Needs One. But if there was any doubt as to who was coaching the team, it was dispelled right after the Rosenborg embarrassment when the oligarch was seen, clipboard in hand, giving Essian a chalk talk through his private translator Sheva. So that's why he paid Milan $30 million for the Ukranian striker. Hell, I would have learned Russian and done the job for $20 million.

It's almost enough to make me feel sorry for Chelsea. In case you haven't noticed, I tend to give the benefit of the doubt to my people (I even defend Rex Grossman, and he isn't even Jewish ). Abramovich and Grant are both MOTT. They even observed Yom Kippur by taking the day off from work Saturday, which is more than you can say for Benny "The Yid" Feilhaber, who came on for Derby in their 5-0 thrashing by league-leading Arsenal (you knew I'd find a way to get it in). Shame on you, Benny. The fact that Fabregas sidestepped you to create enough space for his 70th minute thunderbolt is karmic payback for dissing Yahweh, or at least Sandy Koufax.

However much Ambramovich and Grant atoned, it clearly wasn't enough. They have made the once bad-ass Chelsea look as pathetic as Amy Winehouse's teeth. How comical to watch Terry try to snatch the red card out of Dean's hand when he sent off Mikel for a clumsy studs up tackle on Evra that reminded me of when I cleaned out a player from the New Yorker and she refused to shake my hand afterwards. Never mind that the foul merited no more than a yellow card — Joe Cole scything down Ronaldo from behind was far worse and earned only a caution — Chelsea can no longer complain how referees are out to undermine them. Judging from yesterday's debacle, they hardly need any help.

And finally, all of you who have been begging me to cover the Gay World Cup which kicked off this weekend in Argentina, I'm sorry to say that Leitch has decided I'm not the man for the job. Apparently, when he visited Buenos Aires last year, he found a "blogger" in the next stall of the men's room at the local airport. Evidently, the guy has "a soft touch for a big man," whatever that means.