If you think that height equates to success, then you are very wrong indeed. Look at Tom Cruise — he's as small as a pigeon. Or Al Pacino — barely bigger than a packet of Embassy Filters (probably the dinkiest cigarette on the market).
And so to the football pitch, where you'd be excused for thinking that only the biggest would survive. Again, totally wrong. Here's a team of near-midgets that could literally destroy people.
This post, written by Josh Burt, is republished with permission from The Spoiler. Go there often if you like soccer stuff.

Goalkeeper, Rene Higuita
Even his hilarious Rick James hair couldn't mask that fact that Rene Higuita was only 5 ft 9 inches, which, in goalkeeping terms, is probably around the same size as Peter Schmeichel when he was a foetus. He made up for his lack of height by being quite wacky.
G/O Media may get a commission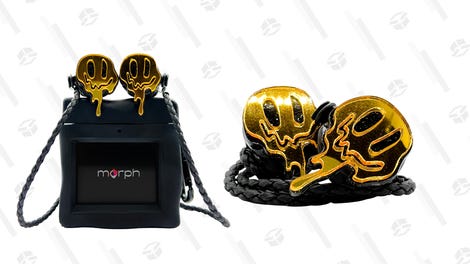 morph audio
Morph Earphones

Right Back, Paul Parker
A wonderful little footballer (above, restraining Roy Keane) — and roughly the same size as either Peter Crouch as a toddler, or the tallest girl in your class. Parker was a big hit at Man United until the Christian Bale in The Machinist lookalike Gary Neville came along and stamped him out with his big size sevens. Still, for a time, this 5 foot 7 inch marvel was not only very sweet to look at, but also England's international right back.

Centre Back, Roberto Ayala
In the real world, at 5 foot 9 inches, Roberto would be spared the cruel mocking laughter and tactless pointing fingers of children who know no better than to laugh at small grow ups, because he's not astonishingly dinky. But put him on a football pitch — specifically in the centre of defence, faced with towering strikers — and he had the look of Scrappy-Doo taking on King Kong.

Centre Back, Fabio Cannavaro
Like Roberto Ayala, Cannavaro isn't exactly freak show short for a human being — he's also 5 foot 9 inches — but in central defender terms, he's a dwarf. Or even a dwarf's little brother. And yet, he was once crowned World Player of The Year. That's one for the little people right there.

Left Back, Roberto Carlos
Roberto Carlos once scored an astonishing curling free kick, and has since spent the rest of his career attempting to repeat it. But with very little success. For those who remember, it started heading towards the right hand corner flag, then suddenly changed course in mid air and doubled back on itself, before zipping into the top left hand corner of the net. Everyone was in total shock. Those behind the goal because they'd never seen anything quite like it. And those in the cheaper seats at the back, because a child appeared to be taking free kicks for Brazil. He's only 5 foot 6 inches, bless him.

Right Wing, Lionel Messi
As a child, young Lionel Messi was told that he would never be any good at football, because his growth hormones were all buggered up — he'd be way too small. And yet he's now one of the finest footballers that the planet has ever seen, regardless of the fact that he only stands at 5 foot 7 inches, and weighs about the same as a packet of carrots. That's right - up yours, science!

Centre Midfield, Edgar Davids
Everyone remembers Edgar Davids as the midfield menace with magnificent hair, who rarely took to the field without wearing a pair of shades — not to score cool points with any kids watching, but because he has glaucoma. In that sense, they were medicinal sunglasses. Anyway, at the height of his playing career, he stood 5 foot 7 inches tall in studs. That puts him in the "quite short for a man" category.

Centre Midfield, Claude Makelele
To hear people talk endlessly of his dominance as a holding midfielder — playing in the "Makelele role" — you'd think that Claude Makelele was a towering Martin Johnson bonehead/Orc brutally protecting the gates of Hell. Not a dinky little French guy — 5 foot 7 inches - who spends his evenings curled up in the arms of his supermodel girlfriend. As is the reality.

Left Wing, Andrey Arshavin
Arsenal's pint-sized fashion designer — and the man behind the greatest football blog going — is only 5 foot 6/7 inches tall. And yet he makes up for his crippling lack of aerial threat by being quite magnificent with the ball at his feet. One day he will definitely nutmeg an opponent by simply whizzing through their legs. Just you wait and see.

Striker, Kenny Dalglish
It was a close call for the second striker spot, with tiny little Twin Peaks style footballers like Romario, Zola, Kevin Keegan and Peter Beardsley all just missing out. Instead, at 5 foot 8 inches, Dalglish gets the nod, thanks to being totally brilliant, and really quite little. As a tiny Scotsman, it's probably safe to presume that if he wasn't so wonderful at sport, he'd be angrily taking apart phone boxes and leaping like a salmon to head-butt people in pubs.

Striker, Diego Maradona
Before he went on to bloated bellies, swollen nostrils, and preposterous international management decisions, Maradona was literally the greatest player on the planet — and all at just 5 foot 5 inches tall! The ultimate pocket rocket.